African Student Association Formally Invites You to Their Fake Wedding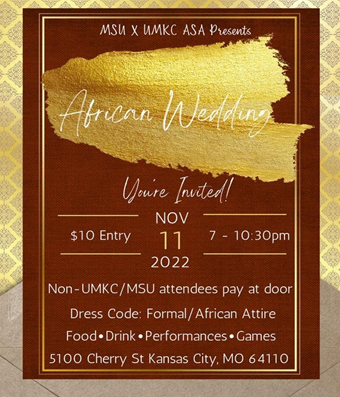 The UMKC African Student Association is partnering with Missouri State to perform a fake African wedding this Friday at the Student Union.
  The event is free to all UMKC students and will comprise all of the important components of a good African wedding which, according to Vice President Josephine Sebunyenzi are: great music, delicious food, a killer bridal party, and most importantly guests dressed to impress.
  "Weddings are such a big and important part of the African culture which makes a perfect way to educate people," said Membership Chair Lydie Djiba.
  The event is going to highlight various traditions, representing students from all over the continent with varying backgrounds. 
  Inspiration for the event came from a fun way to participate in a recent TikTok trend and to showcase African culture. In the past year, multiple schools and independent organizations in other cities have hosted fake weddings as a creative way to bring people together, and UMKC's ASA hopes to do the same. 
  The originators of this "Fake African Wedding" trend, are a group of young Nigerians living in the U.S. who were yearning for the feel of a good African party. 
  Instead of waiting for someone to get married, they opted to throw their own wedding, hoping to emulate that 'vibe' missed by many Africans living abroad.
  Like all weddings, it's not done without planning. Being their biggest event of the year, the leadership team has worked tirelessly to promote and prepare the phony matrimony. Their social media remains a buzz with the bride and groom announcements, which were narrowed down through a vote by ASA members, but remain a surprise for the attendees. 
  Join ASA on Friday, Nov. 11, for a night of free food, fake nuptials, and an overall good time. After all, there is never a bad time to celebrate love and community.