UMKC Professor Nominated as NFL Fan of the Year
Kansas City Chiefs recognize UMKC educator for medical work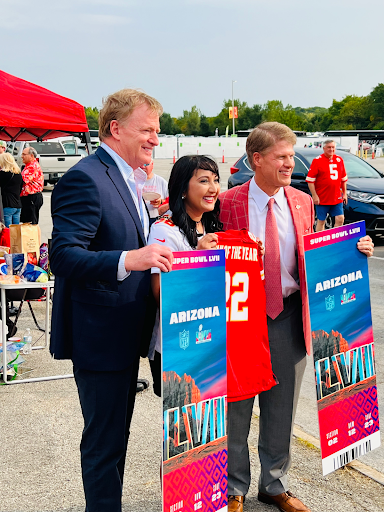 The Kansas City Chiefs nominated UMKC's very own professor Dr. Amy Patel as the 2022 NFL Fan of the Year.
  Patel represents the Chiefs in the Ultimate Fan of the Year polls hosted by the National Football League. She will face 31 other super-fans from all NFL teams. 
"We are thrilled to have named Dr. Amy Patel as our nominee for the NFL Fan of the Year initiative," said Jayne Martin, Chiefs Vice President of Fan Experience. "Dr. Patel has made it her life's calling to positively impact women around her through equitable breast care access, and you can see how passionate she is in living that out in her healthcare career."
  A self-described sports fanatic, Patel serves as the assistant professor of radiology at the UMKC School of Medicine, using her background to help women receive affordable mammograms.
 "You know, we have so many incredible fans in the Kingdom," Patel said. "I just never in my wildest dreams [imagined winning]. It was such an honor."
  Originally from Chillicothe, Missouri, Patel is a UMKC alumni who graduated from the six-year BA/MD program in 2011. She continued her education in breast radiology at the University of Kansas, Washington University in St. Louis, and Harvard. In 2018, she was offered a job at Liberty Hospital to oversee the breast imaging program, which at the time had limited space and technology.
  In 2021, Liberty Hospital was able to get a new, state-of-the-art, breast cancer research center, with Dr. Patel's advocacy being a driving force. Less than a year later, the center received the Breast Imaging Center of Excellence accreditation from the American College of Radiology.
  In addition to medicine, Patel takes an interest in law, aiding in the passing of two bills in Missouri legislation. SB 551 and HB 1682 expand insurance coverage for 3D mammography screening for women 40 and older, as well as those who at a high risk for breast cancer. 
  "Here we are recommending all this stuff and then insurance providers weren't covering it," Patel said. "The fact that we were able to get this passed was a huge victory." 
  All this hard work didn't go unnoticed. Her husband, Joe, nominated her for the Lamar Hunt Legacy Seat over the summer. Six weeks later, she attended a Chief's game for the award. 
  Clark Hunt, CEO of the Chiefs, and Roger Goodell came up and congratulated Amy, noting their personal connection to breast cancer awareness. Goodell shared how his mother passed away from the condition. That's when Clark handed her a bag.
"He said 'We have one more surprise for you' and pulled out a jersey. In addition to being Hunt Legacy" we've chosen you as the Chief's Fan of the Year," Patel said. "I could not believe it. So crazy and unexpected that they totally kept it from me."
Dr. Patel and her husband Joe will represent her favorite team at the 2023 Superbowl in Arizona.
While the awards may have caught her by surprise, those in Patel's daily life felt she made the perfect fit as the recipient.
  "She is kind, personable, empathetic, and honest," said Aishani Vengala, a second-year medical student. "She truly deserves this award, because of her dedication and perseverance."
To vote for Patel, click here.