Player of the Week: Gustavo Guerin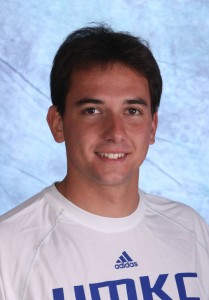 At ages 14 and 16, Gustavo Guerin ranked among the top five tennis players in the entire country of Brazil and also ranked among the top 5 at his high school in Sao Paulo.
Now a junior at UMKC, he came to America in fall 2008.
"I chose to come to America so I could have the opportunity to play tennis and attend college at the same time," Guerin said.
According to Guerin, in Brazil, people aren't allowed to be athletes while attending college.
While attending UMKC, Guerin has begun to pioneer a program to help other student athletes around the world in his position.
He is launching a website to help students around the world relocate to America. He said because most countries don't allow students to also be athletes, he would like everyone to have the opportunity.
His company will give students information about America, its culture and the English language. It will also help students choose a university that best suits them.
When Guerin arrived in America, his biggest challenge was learning English.
Guerin spoke Portuguese and had only studied English six months before his coming to America.
"In my classes I had to teach myself because I couldn't understand the lectures," he said.
Guerin chose UMKC because it offered a scholarship and a good tennis program. He also enjoys the Midwestern climate.
"I chose to come to Kansas City because it has all four seasons," Guerin said. "The weather in Brazil is similar to California."
Guerin fell in love with tennis when he was 10 years old.
"My dog used to play with tennis balls," he said. "So one day I decided to play tennis."
Soon after, Guerin took tennis lessons twice a week, and after a couple of years of lessons, he played every day.
His goal this season is to help UMKC win the Summit League Championship.
"I think we have a great team," Guerin said. "We're the favorite team [in] the Summit League, in my opinion."
Last year, the team did not win the championship. This is why Guerin believes the team is more excited this year to win.
"Everyone is excited to play our conference match," Guerin said. "We want to get the ring."
When Guerin graduates from college, he plans on staying in America, but he does not plan to pursue a career in his major of engineering immediately after college.
"I want to be a businessman," Guerin said.