Week in review: Men's Golf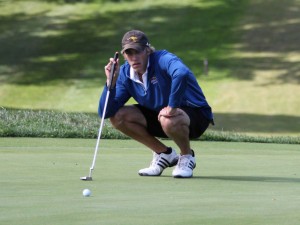 The men's golf team achieved a third place finish amid fierce competition at the Jackrabbit Invitational, held March 14-15 in Primm, Nev.
The Roos finished with a team score of 846, behind eventual winners University of Missouri-Columbia (team score: 827) and runner-up University of Idaho (828).
The Roos had consistent rounds of 284-279 and 283 respectively.
Over the course of the tournament, the Roos were led by sophomore Korbin Kuehn, who eventually tied for seventh place. His combined total of 208 also included a magnificent eight under par final day round of 69.
Importantly, the Roos finished higher than their competing Summit League rivals Oral Roberts, South Dakota State, North Dakota State and Oakland in this invitational.
The golf team will now travel to Little Rock, Ark. March 28 to compete in the University of Arkansas- Little Rock First Tee Intercollegiate event.