Week in review: Softball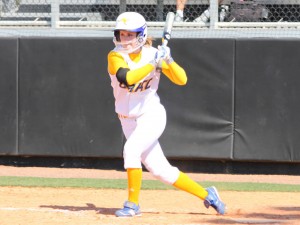 The women had a tough weekend against Indiana University-Purdue University- Fort Wayne in Fort Wayne, Ind. Two matches were lost on Friday, March 18 (3-1, 2-0) and another loss occurred Saturday (7-2).
Junior Kelley Fischer made some bold plays for the Roos on Friday's first game. Fischer was walked to first before stealing the next two bases and bringing in the lady's one run on the day.
Fischer led Saturday's game with two hits and a walk. Junior Anna Sokolik also showed some skill on the day by hitting a double leading to a run for UMKC.
The women will play South Dakota State this weekend in Lawrence, Kan.