In the face of great ones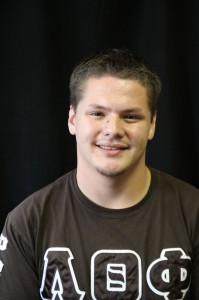 In the past week and a half, I have seen a few celebrities.
Last week I saw B.o.B and OneRepublic before the show and this weekend I saw reality star Pauly D at Power and Light.
Of course I don't feel lucky to have seen these people.
I do appreciate what they do and how they contribute to society, but through it I realized I am unfazed by celebrities.
The first time I realized this was back in 2007 when Chris Brown, yes, Chris Brown, came into the Wendy's I had worked at during high school.
I was working frontline that day and here comes this big celebrity, coming to a Wendy's in Wyandotte County, Kan. of all places.
I took his order, and as I did, I realized every girl working behind me completely freaked out and began to scream as if a horde of zombies were coming to eat them.
These employees were completely hysterical because of his presence.
One of them even got fired over her behavior, and, according to her it was worth it.
I am no paparazzi, and it kills me to start name dropping. I am going to do it anyway.
Back in 2007, I attended a film workshop at Bartle Hall where I had the pleasure of being taught acting tips from the great Eric Roberts, brother to Julia Roberts.
In 2008, I attended the United States Hispanic Leadership Institute National Conference in Chicago; I was browsing at H&M when I spotted DJ Qualls, star of "The New Guy."
At that same conference, I had the pleasure of meeting the great and late Cesar Chavez's granddaughter Christine Chavez.
There was the time I saw "comedian" Carrot Top in Westport, but I am not sure he counts as a celebrity.
I view these individuals as humans who deserve respect from their fans and followers.
They don't deserve their autograph to be scanned into a computer to be sold on eBay, nor do they need to be bothered while shopping like any other normal human.
However, I do understand why people get excited around these artistic and public figures.
Somehow it seems like a once in a lifetime opportunity to be in the presence of someone of their stature, someone who has the respect and attention of thousands if not millions of people worldwide.
I'm not saying I won't freak out if my favorite band, 311, comes my way because I probably will, just not to the point that I'll embarrass myself or make them think I am a dumbass.
It's just out of respect and just plain human decency that people should see celebrities as people and not objects of fame and money.
I'm sure it would upset you if 30 insane journalists with cameras that have gigantic zoom lens extruding the body pointed directly at you with flashing lights in your face.
Okay, let's leave the paparazzi topic for another forum.
But as I was saying, it's important to appreciate their presence, not scream like banshees in their face.
If you did that to a normal person, you might get pepper sprayed or put in jail.
Let's act civil now.