Foreign language department supplemental study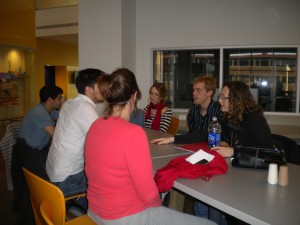 Learning a foreign language can be a difficult undertaking for students given the time it takes to memorize hundreds of different words.
However, it doesn't end there. Professors then expect students to be able to take those words and form full sentences and paragraphs.
Furthermore, they want students to pronounce these words with the proper accent.
This is a part of every foreign language course at UMKC.
For each of these classes there are also two kinds of exams: the written exam and the oral exam.
The oral exam has been the source of angst for most foreign language students.
To combat this issue and ensure that a passing grade is obtained on this particular kind of exam, "conversation tables" are held every Friday afternoon in the Student Union.
The tables are sponsored by the Foreign Language Department and focus on both the French and the Spanish languages.
Students who are enrolled in French and Spanish are invited to attend and gain experience in the practical application of the language.
A tutor from the Foreign Language Department leads the conversation tables.
The tutor helps the students by correcting mistakes in grammar, speech and pronunciation to ensure proper dialect is spoken.
Tutors who lead these tables also engage in the education of the students through culture.
"Learning a language is really important because you learn about the culture and get to know that culture through the perspective of [the] language," senior French minor Alex Lewis said.
Both Lewis and Nacente Seabury, students minoring in French, agree they have made good friends in their conversation groups as well as gained a better understanding of the language.
By removing the learning process from the typical classroom setting and meeting at a more open and comfortable location like the marketplace in the student union, students are more likely to attend and thus be more successful when tested over the material.
Students are encouraged to stay for the entirety, however, it is not a requirement and they may come and go as they please.
Seabury said these conversation tables are not just for the experienced students..
"Though it may be difficult at first to keep up with the group, by listening and participating when they can, even first time students would find it beneficial," Seabury said.
With this interactive way of studying with peers, students can prepare and converse in a new language and get to know their classmates while gaining more knowledge of different cultures with a foreign language.