March dating ideas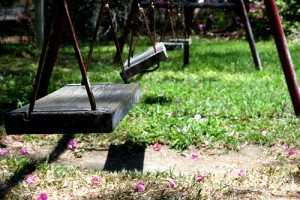 Spring is in and indoor dates are out.  Take your March crush on a simple and romantic date.
Swinging back into time…
If you are sick of sitting in a restaurant booth staring across the table at someone, give the playground a chance.
When was the last time you visited a playground? True to its name, the playground date is playful. You can climb to the highest point on the jungle gym, ride the swings or teeter-totter.  Regardless of what playful pastime you choose to indulge, the playground date is a good time.
It lets you and your date revert back to childhood when recess ruled.
There's a simple pleasure at the playground that takes you and your date out of reality and back to the good ol' days. Not to mention moving around gives your date a nice boost of energy for the release of endorphins.
Make the date a little sweeter by bringing along a snack—the kind your mom didn't let you eat. Maybe you were once crazy about Fundip or Big League Chew. Bring it with you and offer some to your date. While you're snacking away, ask your date about their childhood.  What kind of toys they played with?  Was your date the bully, the bullied or the kind of kid who didn't take anything from no one? Win over your date by showing interest in his or her past.
A word of caution: avoid packed playgrounds. No playground date will succeed when screaming and scabbed knees are involved. Opt for a quieter park playground instead of a notoriously busy one or one near a school. Also, consider going on a week day when kids are in school to avoid having to babysit.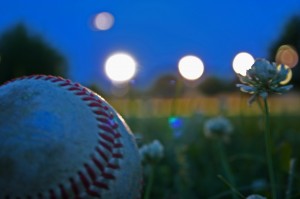 Throw your date a curveball…
The Royals' opening day game is in the afternoon on March 31. If your date is a sports fan, you could hit it out of the park with this one. The first game of the year at Kauffman Stadium is sure to be extra exhilarating for Royals fans. Who doesn't love the aroma of a fresh green outfield mixed with ballpark franks?
There is a chance your date does not like sports. Even if you run that risk, I'd say don't rule out this date entirely. If your date seems receptive or open-minded, then go. Besides, sometimes the most fun is tailgating before the game.
Attending a sporting event is always more exciting than seeing it on television, and the excitement of a home opener is unlike any other. The enthusiasm of the crowd can rub off and leave your date rooting for the home team for at least one night.
Another great aspect of the baseball date is the conversation component. With so much going on, the game takes the pressure off of finding things to talk about. Speaker commentary and the occasional T-shirt giveaways allows for lulls in conversation. You will be able to interact as much or as little as you like. But if the Kiss-Cam lands on you, all bets are off.
The game starts at 3:10 p.m., and the Royals are playing the Los Angeles Angels. Tickets start at $15.