Sam Sikkink and Janee Williams Senior Lady Roos say their goodbyes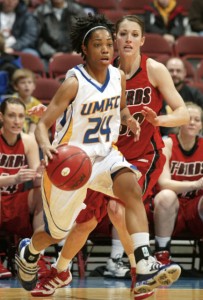 After years of service to the women's basketball team, seniors Janee Williams and Sam Sikkink are preparing to graduate.
Both seniors played their last minutes in gold and blue Saturday, March 5, when they were downed by Indiana University-Purdue University- Fort Wayne (IPFW) 68-53 in the Summit League Championship opening in Sioux Falls, S.D.
Here's a look back at both players' careers and what lies ahead for each of them.
Janee Williams
Tulsa, Okla. native Janee Williams joined the Roos for the '09-'10 season after two successful seasons at Clarendon College in Texas.
Having previously led the nation in assists, averaging 4.6 per game in junior college, Williams did not fail to disappoint as a guard.
Playing in 23 games as a junior, she finished the year with 12 assists, five steals and a career-high 16 point-scoring game against Northern Arizona University.
Senior year, Williams played a total of 17 games, notching up 38 points and 14 assists to help the Roos go 9-9 in the Summit League play this season.
William's team-high nine points against eventual championship runner-up Oakland proved to be the 5-foot-7-inch guard's season highlight.
After two successful years at UMKC on the court and in the classroom, Williams, a criminal justice and criminology major, intends to graduate this semester and pursue a legal career.
Her mother, Jana Williams, and brothers, Billy and Cartney, will no doubt be proud of Janee's academic and athletic accomplishments at UMKC.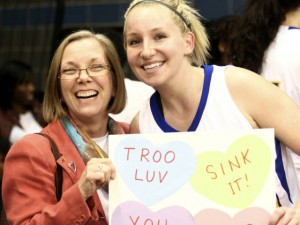 Sam Sikkink
Sam Sikkink joined the Roos for the '09-'10 Summit League season after leading Community College and Technical College to the 2009 NJCAA DIII National Championship with an undefeated 34-0 season.
After leaving her hometown of Rochester, Minn., Sikkink appeared in 25 games (23 starts) before a knee injury cut her junior year season short.
She averaged 6.9 points per game, 32 assists, four blocks and 17 steals, and as a result, was named to the Summit League Winter/Spring Academic All-League Team.
Her junior year highlight was becoming a UMKC leader in free throw percentage at a remarkable .905 percent, hitting 38 of 42 attempts.
She also scored more than 10 points in six contests with her game-high 17 point total against North Dakota State University.
Sikkink finished her senior season, which ended March 5, with 103 points, 16 assists and a total of 307 minutes played. The 5-foot-9-inch guard also produced a team-high display of 14 points against Summit League opponent Centenary College this past season.
In the classroom, Sikkink is a model psychology student. Graduation lies ahead in December, and a successful career in the psychology field looks to be on the horizon. Parents Randy and Roxanne Sikkink, and siblings Jessica and Nick, can look forward to a bright future for Sam as her hard-work on the court carries into her future.
Head Coach Candace Whitaker was full of praise for both Williams and Sikkink, stating the "satisfaction was all hers and the UMKC basketball programs" for their years of dedicated service.