Men's Basketball Season Review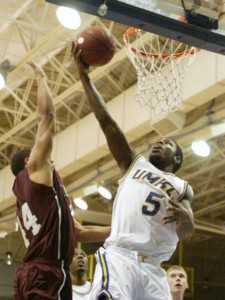 The 2010-11 UMKC men's basketball season asked one of the most clichéd lines in sports: What could have been?
The 16 wins tied for third-most in the 25 years the Roos have been in the NCAA. Senior Spencer Johnson finished his career as UMKC's all-time leader in rebounding despite being consistently undersized. There were some statement wins like beating South Dakota State on the road and dropping IUPUI in double overtime.
Then again, injuries decimated the Roos frontcourt and by the end of the year they were forced to match-up 6-foot-5-inch forwards on a future NBA center.
Leading scorer Jay Couisnard played the final two weeks of his college career on a knee that required surgery after the season.
Junior Bernard Kamwa missed the final six weeks with a knee injury as well, depriving the Roos of their only true post player. The other two, sophomores Fred Chatmon and Kirk Korver, didn't even play due to injury. Only 10 players checked into a game all season.
As a result, the Roos lost their last four games and were knocked out of the first round of the conference tournament for the fourth time in their last five appearances. The injuries resulted in a lack of depth that took its toll and contributed to the late-season slide.
"I've never seen anything like it," Head Coach Matt Brown said, referring to the mass injuries. "Fortunately, our seniors really stepped up this year."
Couisnard averaged 17.6 points per game and was at times UMKC's best on-ball defender. Johnson provided an edge on the boards and was able to knock down a few clutch shots. The third senior, guard Bakari Lewis, led the team in assists and was successful in applying defensive pressure on opposing point guards.
Brown seems content with the progress the Roos are making.
"Twelve, 16, up to 20," Brown said, referring to the increase in wins that coaches like to set as a standard of progress. "We've got some good players coming back next season."