Mayoral candidates debate at UMKC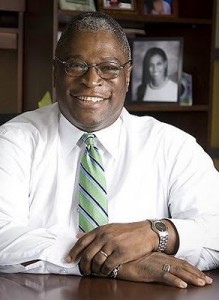 On Saturday, March 5, Kansas Citians eager to hear candidates Mike Burke and Sly James discuss their plans for the city's future gathered in Pierson Auditorium.
The debate was sponsored by Young Latino Professionals of Greater Kansas City (YLP) and the Kansas City, Mo. chapter of the National Association for the Advancement of Colored People Young Adult Committee (NAACP YAC).
Iris Hermosillo of KCTV5 News and Julee Jonez of Hot 103 Jamz moderated the debate, which included questions on city governance, public safety, infrastructure, education, civic engagement, economic development and community enrichment.
Burke and James were each allowed a brief introduction, a one-minute response to each question and a one-minute rebuttal.
The issues of diversity, specifically youth involvement, overarched the other topics.
James said he will make the city more responsive to its youth and will appoint young people to boards and commissions at city hall.
"We can't be adverse to having people of different races, lifestyles and skills," James said.
Burke agreed with James' statement, adding he will work to retain young Kansas Citians.
"We need to keep our talented, creative young people in Kansas City," Burke said. "We need to make Kansas City an exciting place for young people to stay."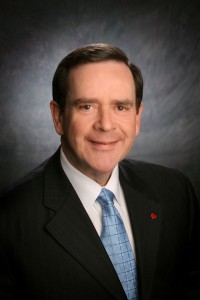 Both candidates emphasized the contributions of young adults to their campaigns. Burke specifically acknowledged Student Government Association President Klassie Alcine, who works on his campaign as a volunteer coordinator.
Alcine's interest in city politics began several years ago when she interned at City Hall. The reason she supports Burke, Alcine said, is because of his experience.
"He's very humble, and he has so much experience," Alcine said. "He is perfect for mayor. I walked into his office on the first day, and he knew what action plans to take to move things forward. I want someone who knows how to do that and someone who can work well with the city council."
Racial and ethnic diversity were also popular topics, which emerged in debates about board positions and public safety.
James said he will work to increase the promotion and retention of minority officers, which James said is the primary barrier to increasing the diversity of the police force.
"The problem you have when you're trying to diversify is that it's easy to get in, but it's harder to get up," James said.
James cited his leadership as president of the Kansas City Metropolitan Bar Association, where he developed an initiative to diversify local law firms.
As a result, the number of African-American and Latino lawyers increased by 100 percent and 70 percent, respectively.
Burke mentioned his experience in the development of the Westside Community Action Network (CAN) Center, which added Spanish-speaking officers to the Westside neighborhood, which has a large Latino population.
Burke said the addition of the Spanish-speaking officers led to a 50 percent decrease in crime in the neighborhood.
Burke echoed James' promise to increase the diversity of the police department.
"We need a police department that looks more like the constituency it serves," Burke said, adding that he will work to build trust between the police and communities of color, a goal shared by James.
One area where both candidates differed was the issue of transportation. While both voiced support for building a streetcar line that would connect downtown with surrounding neighborhoods, James voiced opposition to building a light rail.
"We need to stop trying to duplicate what other people did 25 years ago that we missed out on and start setting our own course," James said. "I'd rather have our own signature streetcar line than the same old St. Louis, Denver light rail line."
Burke supports the light rail as a long-term goal, but said he would rather start with bus rapid transit and the proposed streetcar line.
Other differences include city hall experience and endorsements.
Burke has served as a councilman in the past, and carries the endorsements of former mayors Charles Wheeler, Richard Berkley and Kay Barnes.
Burke is CEO of King Hershey Law Firm, where he works as a development lawyer.
James is also a lawyer, and is a partner at the Sly James Firm, which specializes in personal injury suits.
James hasn't had the same level of city hall experience as Burke, although he has received several high profile endorsements, including Freedom Inc., which represents Kansas City's African-American community.
Both candidates agreed more than they disagreed, appearing more as allies than political opponents.
"Truth be told, we've both adopted a lot of good ideas from each other," James said. "And that's a good thing, because rather than get our own ideas involved and claim ownership, we're both willing to look at ideas that will benefit the city."
Regardless of who is elected mayor on March 22, Burke and James both agree the other will play a vital role in their administration.
Alcine encourages students to vote in the election.
"For students, it's really important for us to go out and vote, because whoever our next city council members are, they're going to have to deal with some really hard issues when it comes to the economy," Alcine said. "It's important for students and young adults to show that they do have power in voting."
For more information on Mike Burke and Sly James, go to www.burke4kc.com and www.slyjamesformayor.com.
For more information on the NAACP YAP and YLP, go to www.naacpkcmo.org and www.younglatinoprofessionals.com.