School of Law hosts spelling bee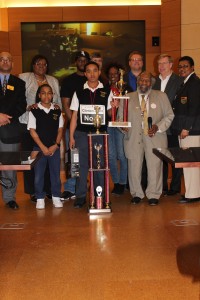 On Friday, March 4, the School of Education (SOE) and the School of Law (LAW) teamed up to present "Courtroom to Classroom," which is their 6th Annual Spelling Bee for students at the Afrikan Centered Education Collegium Campus (ACECC) in Kansas City.
Located at the intersection of Meyer and Prospect, the ACECC is a Contract School operated in cooperation with the Kansas City, Missouri School District and is managed by the Afrikan Centered Education Taskforce Incorporated (ACETI).
More than 60 fourth and fifth grade students at ACECC traveled to the E.E. Tom Thompson Courtroom located inside the Law building to compete in this annual event.
The spelling bee was originally scheduled for Friday Feb. 26 with 41st District Representative Shalonn KiKi Curls in attendance, but the event was rescheduled due to inclement weather.
"Courtroom to Classroom" came into existence six years ago by the helping hand of Breman Anderson Jr., a community volunteer and alumnus of SOE who always had a dream of bringing a spelling bee to UMKC.
Students were given two weeks to study a list of vocabulary words that varied in difficulty and popularity.
One by one, students approached the microphone to showcase their hard work and compete for the Grand Prize as their parents and teachers cheered them on quietly in the audience.
The top three contestants were given new laptops, courtesy of Kansas City Power & Light.
A fifth grader at ACECC took home the first place trophy along with his new computer.
According to the student, he spent a lot of time outside of school studying for the spelling bee.
Although he wants to be a basketball player when he grows up, the student said he's definitely going to consider the School of Law.
KCP&L also donated $400 to provide the students with boxed lunches for the event.
Each contestant was presented a medal and rewarded a $1,000 scholarship for the School of Law to be considered for when they begin planning their post-secondary education.
The same $1,000 scholarships offered this year were rewarded to the students of the first annual spelling bee who, according to Virginia Dee Evans Assistant Director of the Office of Community & Public Affairs, are now in the high school and will soon be looking at schools.
Along with the law school and SOE, the spelling bee would not be made possible without the help from: the Office of Admissions, University Advancement, Multicultural Alumni Committee, Kansas City Power & Light, Kansas City Missouri School District and area elected officials.
The spelling bee gave young students the opportunity to experience college for the first time, which, according to the Office of Admissions Early Awareness Program's Mission Statement, is a realistic and tangible goal to better their lives.