Campus fast fact: Women's Center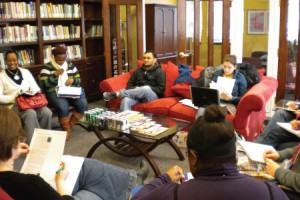 The UMKC Women's Center, located in room 105 in Haag Hall, may seem like a quaint office from the outside but upon entering you will soon find it is more.
Founded in 1971, the Women's Center provides a relaxed space for students from all disciplines to enjoy.
The Women's Center was initially known as the Women's Resource Center as a part of the UMKC Division of Continuing Education.
Beyond the pleasant appearance, you will find the Women's Center is also a department that works for the well being of women and gender rights.
In 2003 the LGBT Resource Center was created and operated through the Women's Center, which in 2005 moved to the University Center.
In 2005 the office received a fresh paint job and furniture donated from the Barbara Pendleton estate.
"We put on a large amount of successful events with a very small staff," Nikeisha Fortenberry Graduate Assistant for Programming said.
March is Women's History month.
The Women's Center has several events scheduled in honor of that.
"We will have a trivia table set up on March 16 in [Royall Hall] and we also have a book display [of Gender and 19th Century German Literature] in the Miller Nichol's Library that will be on display until the 31st," Fortenberry said.
A big event to look out for from the Women's Center is the 'Rock Who You Are' Fashion Show, which will be held Tuesday, March 8 from 7-9 p.m. in the Student Union Multipurpose room 401A.
"The 'Rock Who You Are' Fashion Show is being held to promote positive body image and self-acceptance," Fortenberry said, two ideals that the Women's Center is always supporting through their events.
There will be door prizes as well as light refreshments served at the Fashion Show.
"Her Art Project is another event to look out for," Fortenberry said. "It is an art series coming up in April."
'Who Does She Think She Is' is a group art exhibit that will appear at First Fridays April 1 and May 6 but will be on display from April 1 through May 13.
The event space is at JavaPort located at 208 W. 19th St.
This series will follow the state of women in Kansas City and bring forth their ideas in the form of Art.
In addition to the upcoming events, the Women's Center has sponsored events like the Vagina Monologues, The Starr Symposium, Violence Prevention programs like the annual Walk a Mile in Her Shoes and Take Back the Night.
For more information about the Women's Center and upcoming events by the organization please visit www.umkc.edu/womenc or e-mail [email protected]