Professor Profile: Dr. Thomas Poe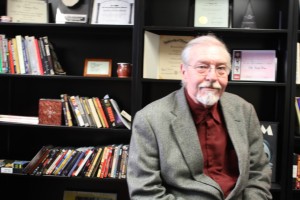 Associate professor Dr. Thomas Poe, demonstrates that sometimes big changes pay off for the better.
"While I totally loved teaching in the area of religious studies and wanted to continue to do so, I also realized that entering the 1980s there was a narrowing window of opportunities to do so outside of self-identified church-related colleges and universities," Poe explained.
Poe was originally a religious studies professor at Southwest Missouri State University, where he also served as a campus chaplain amid the left-leaning religious climate surrounding Vietnam War protests.
But before he picked his next subject to pursue graduate school, he consulted a career counselor. Poe came into counseling with practical needs, expecting to find a professional-level job so he could make a decent living.
"He said some things to at least consider [are] the things you do when you're not at work that you like doing," Poe said.
At Southwest Missouri State, Poe facilitated extracurricular film screenings for students. He told the counselor he enjoyed studying film.
After asking the counselor if he thought there was a way he could make money working with film, he made a statement Poe has never forgotten.
"He said if you can figure out how to get someone to pay you money for doing what [you could do] for free, you will never work a day in your life," Poe recalled.
Thus he chose a path in film theory and has now worked in the film program at UMKC for nearly 30 years.
He has seen the film program evolve drastically from his early days on campus due to the widespread availability of home videos and DVDs.
"There was not much development in film studies outside of New York City and L.A.," Poe said of his career's beginnings. This was due to the fact students studying in the biggest cities had greater access to film screenings and art-house cinema.
"I knew that it was going to transform teaching and students' experiences when VHS tapes were created," Poe said. "Suddenly, all of these things could be shown."
Now the blossoming film program at UMKC features classes on subjects ranging from Alfred Hitchcock to medicine and film to film noir.Many students particularly enjoy the classes he teaches, including UMKC Film Studies major senior and U-News Photo/Sports Editor, Kevin Bryce.
"His knowledge of films is so vast," Bryce said. "And not only has he seen it all, he loves it all which is so evident in his classes."
Bryce, who described Poe as welcoming and friendly, said he considers him one of his favorite professors.
"I came into UMKC not really interested in old movies," Bryce said. "He just completely turned my idea of old movies on its head."
Former Poe students have gone on to prestigious graduate film programs at universities such as the University of Southern California and the University of Texas at Austin.
This is one of the reasons Poe continues to find his opportunity to share his passion for film "really gratifying."