Player of the Week: Ramon Nelson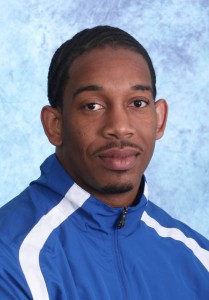 Though sophomore Ramon Nelson holds the school record for the indoor shotput, he hopes to claim the top spots for the discus and weight throw before his college career ends.
But those aren't his biggest goals.
"My real goal is to go to the nationals," Nelson said, "I really want to put UMKC on the map because I think we're really underrated as a team on a whole."
Nelson has a unique recruitment story. He comes from a small rural village in Jamaica called Linstead. The village is completely different than a typical American town with its small roads, rich vegetation and "little shops here and there."
By the time Nelson was in high school, he saw coming to America as fundamental in pursuing a career in shot put. But even by May of his senior year, UMKC was nowhere on his radar.
"I would send out a lot of e-mails to just random schools because I was getting desperate," Nelson said. "Any schools I heard from were continually turning me down."
But a former high school classmate of Nelson's threw him a line. The classmate was throwing shot put at Missouri Baptist University and sent Nelson one small lead.
Not a name or a number but an e-mail address for what Nelson thought was the coach of Missouri Baptist.
"I had no idea what his name was because I was getting so desperate, I just had an e-mail," Nelson said.
So Nelson worded the email without letting on that he didn't have the coach's name, included his high school distances and results.
"But when he responded, he said he was no longer at Missouri Baptist," Nelson said. "He's at UMKC. At that time I had no idea what the acronym was, I had no idea if it was a school or not."
So after searching UMKC in Google, he discovered the place he would move to in three short months.
Former track Coach Phil Groves was the name Nelson finally learned in a phone conversation, along with learning the coach was offering him a chance to come compete for the Roos.
So Nelson arrived to Kansas City and UMKC, not knowing what he was getting into.
"I had no idea what it was like," Nelson said. "I didn't know that the atmosphere could get so cold. Jackets, gloves, sweat pants, those were just not in my wardrobe."
The climate was a real culture shock for the then-freshman, and it affected his athletics.
"Because since I've been here the climate change," Nelson said, "I was prone to a lot of injuries and now with the patience and the dedication of the medical staff and the coaches I am where I am right now."
Despite the somewhat accidental arrival, Nelson is happy to be here competing for the Roos. He appreciates the fact that the team is in a rebuilding stage and sees it as a benefit.
"I didn't already want to be a fully developed huge team because I thought I'd always be lost and overlooked as far as coaching is concerned," Nelson said, "and the coach-athlete ratio is a lot better."
"So my aim is [to] try to put UMKC on the map before I graduate," Nelson said.
Now, having adapted to the climate and spent a lot of time training with coaches, it doesn't seem all to out of reach.