Organization Profile: Mortar Board works toward comeback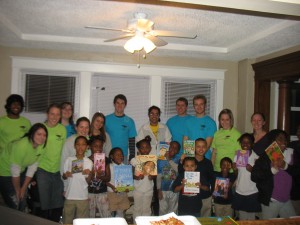 The UMKC Delta Alpha Chapter of the Mortar Board National Honor Society is reclaiming its presence on campus by reaching out to students and giving back to the community.
Mortar Board can be found across the country.
Chapters are comprised of college juniors and seniors who demonstrate a commitment to scholarship, leadership and service.
Since its founding in 1918, Mortar Board has sought out the nation's best and brightest.
Some famous figures who were Mortar Board members include: best-selling author Aron Ralston, professional football player Drew Brees, author Bruce Littlefield, and former U.S. Secretary of State Condoleezza Rice.
Delta Alpha is headed by President Allison Meyer, a senior studying Chemistry and Spanish.
Meyer described the organization as a well-respected society that has not reached its full potential on campus.
Though Mortar Board has been available to students for nearly five decades, in recent years has its member enrollment and participation rates have declined.
Delta Alpha has set out to win a nationally-coveted title of most Improved Mortar Board Chapter.
Meyer's plan to improve the UMKC Chapter is spreading awareness about Mortar Board and implementing strategies for greater rates of member retention.
According to Meyer, member retention is one of the most difficult aspects of maintaining any organization.
When Meyer joined the organization, Delta Alpha had only retained five active members, which has changed over the past year.
With new leadership in the organization, Meyer and her fellow society members have been able to increase membership and participation rates.
Currently, Delta Alpha has 20 active members.
To be an active member, one must participate in every service project and attend all but three meetings.
With a membership application deadline of Feb. 21, 2011, Meyer had expected at least 30 applications to come in, but only 15 students will make the cut.
In order to qualify for consideration, applicants must meet three criterion: academic-credit status, commitment potential to an honors society and GPA.
Applicants must have an academic credit status of at least 70 credit hours or at the junior or senior level.
The application materials submitted must show that the applicant would be committed to involvement in Mortar Board activities throughout the rest of his or her undergraduate career.
Lastly, applicants must maintain a GPA of 3.0 or higher.
However, the UMKC chapter has become more stringent.
In an effort to win the Most Improved title, the organization is only accepting students with a GPA of 3.2 or higher.
"Our members are in fraternities and sororities, and span almost all schools, except the conservatory," Meyer said.
Meyer had her own reason for applying for Mortar Board.
"I did not want to pay money and not participate in an organization. People want to participate if they're going to spend their money," Meyer said.
Mortar Board's next service project will occur on National Reading Day, March 2.
The members will be reading to students at Operation Breakthrough, which provides childcare services to children who are not of school age and live below the poverty line.
"The reason we're so focused on literacy is because our national focus is on literacy. Mortar Board's saying is, 'reading is leading,'" Meyer said.
In Nov. 2010, Delta Alpha took part in a National Mortar Board Society activity in which chapters from across the country helped to raise money to promote literacy in their local communities.
For instance, Delta Alpha raised $400 for Operation Breakthrough, placing it in the top 30 of 228 national chapters.
Many of the children in Operation Breakthrough's care will be able to order a book of their choice and keep it.
On March 7, Delta Alpha members will visit the Operation Breakthrough facility to read the children's books to them.
Meyer continues to work toward winning the title of Most Improved.
Meyer was inspired to work toward this goal after attending Mortar Board's National Conference in July 2009.
"My goal this year is to leave this organization better than I found it," Meyer said.