Yell like Hell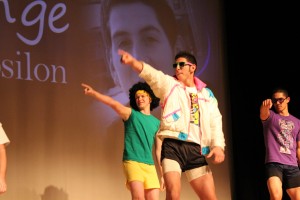 Last week UMKC went back to a time when short shorts on guys and leg warmers were in.
The 2011 Court Warming week brought the nostalgia of the 1980s.
Organized and sponsored by the Activity & Program Council (APC) and the Office of Student Involvement (OSI), students enjoyed a week full of gnarly events.
Monday students watched one of John Hughes biggest hits "The Breakfast Club" from 1985 in the Student Union Theater.
On Tuesday students gathered in the Student Union to test their 1980s pop culture knowledge in the 1980s Trivia Night.
Students took to the stage Wednesday in the Student Union Theater to show off their moves in true 1980s fashion.
Thursday was the Blue and Gold men's basketball game at Swinney Recreation Center. Students went to support the Roos as they took on Oakland University. At half-time, Court Warming candidates showcased their 1980s athletic gear. The one with the loudest crowd reaction won.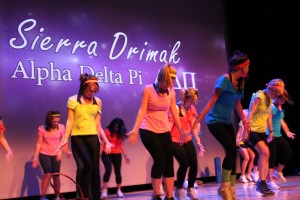 Students busted a move at the 1980s black light dance in the Multipurpose Room of the Student Union.
Lastly, Saturday was the final home game for the men's basketball team as they took on Indiana University–Purdue University Fort Wayne (IPFW).
In addition to the events, another portion of Court Warming was the Mr. and Miss UMKC campaign.
Candidates for Mr. UMKC were Levi Rash, Jordan Strange, Luke Byle, Adrian Banuelos and Caleb-Michael Files.
Miss UMKC candidates were Sierra Drimak, Chelsea Potts, Lydia Degarmo, Michaela Brogoto, Lauren Clifton and Tori Logrosso.
All week, UMKC Students were able to cast their vote for their favorite candidate for Mr. and Miss UMKC.
The winners, Mr. UMKC Levi Rash, Miss UMKC Lydia Degarmo, Mr. Congeniality Luke Byle and Miss Congeniality Sierra Drimak were crowned at men's basketball game on Saturday during half-time.