Cage the elephant unleashes radness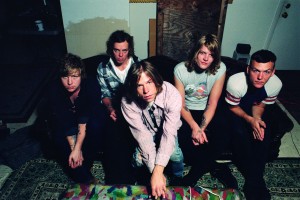 Alternative rock band Cage the Elephant played for a packed house at the Beaumont Club last Wednesday evening. Having been a fan since their first self-titled album was released in 2009, I was anxious to see how their music translated live.
Cage the Elephant followed through bringing back early 90s awesomeness while incorporating styles I've heard from Neutral Milk Hotel, Black Keys, Raconteurs and Radiohead's Bends album.
It was refreshing to see how much pleasure Cage the Elephant got from playing for an audience. From crowd surfing to bouncing all over the stage, lead singer Matt Shultz delivered an atmosphere the crowd was receptive to.
This was a nice change after having covered other bands fresh off of South by Southwest before, who were gaining fame and only caring about how good they look in a military jacket and carefully tousled hair.
The excitement from the fans may be in part from opening with crowd pleasers like "No Rest for the Wicked, "In One Ear," and "Back Against the Wall," before going into newer songs like "Shake me Down."
Though having just released their sophomore album "Thank you happy birthday" on Jan. 11, many of the attendees knew every word to the new material- an unfortunate thing for people like me who want to enjoy a show sans the off-key non-melodic rendering from ultra-drunk man number two in a group of 100.
But, with a receptive crowd such as this, there are always pitfalls. Do I enjoy looking at the back of your head while you back up so dangerously close that your hair tickles my nose? Not remotely. Do I think it's funny when you prop yourself up on an obviously shaky railing and fall? Yep.
Despite my misgivings with meandering drunks, Cage the Elephant and its rising fame, stayed true to their original sound and had a genuine enthusiasm which continued to spur fans throughout the night.
Over all: Great dynamic, awesome sound, good crowd.