All Around Town: Crossroads Arts District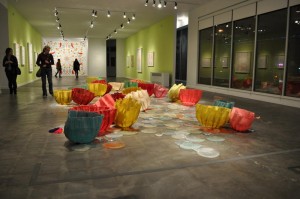 Located between the Downtown Loop and Crown Center, the Crossroads Arts District is the focal point of Kansas City's burgeoning arts community.
Passion and intellect intersect in the Crossroads, a retreat for artists, hipsters, foodies and people-watchers.
With dozens of blocks and more than 100 galleries, boutiques, restaurants and other fun and exciting venues, there is little one can't find in this fun-filled Kansas City neighborhood.
First Fridays/Second Saturdays
On the first Friday of every month, thousands flock to see the district's numerous galleries and studios open to the public.
There are a dozen galleries located within walking distance of each other near 19th and Baltimore streets, where one will also find street performers.
I recommend checking out the Leedy-Voulkos Arts Center, at 2012 Baltimore St., the Byron C. Cohen Gallery, at 2020 Baltimore St., the Blue Gallery, at 118 Southwest Boulevard, the Belger Arts Center, at 2100 Walnut St. and the Kemper at the Crossroads, at 33 West 19th St.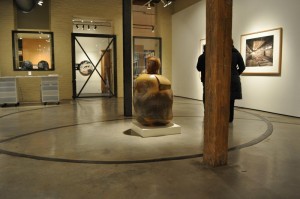 To follow local artists and view a monthly Kansas City arts calendar, check out the Crossroads-based Review Magazine, www.ereview.org.
Boutiques
High-end retail abounds in Kansas City's Crossroads. I highly doubt many college students can afford a $10,000 TV at Bang & Olufsen at 1901 Main St. or $700 egg chair at Retro Inferno at 1500 Grand Blvd., but these places are nonetheless fun window-shopping destinations.
For places college students can afford, check out Hammerpress, which sells posters, postcards, notebooks and other knickknacks at its store at 110 Southwest Boulevard.
Tomboy Designs sells handmade women's clothing at 1817 McGee St. Girls may also enjoy Birdies, an intimate apparel shop at 116 West 18th Street.
I enjoy Christopher Elbow Chocolates, located next door to Tomboy at 1819 McGee St., which sells an unusual assortment of chocolates handcrafted by Christopher Elbow, who has been featured on "Oprah" and The Food Network.
Dining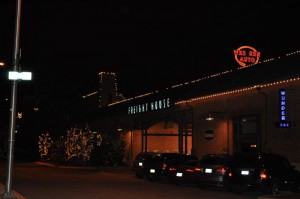 Dining options range from Kansas City classics like Town Topic hamburgers and Jack Stack Barbeque to high-end restaurants like Extra Virgin and Michael Smith.
For downscale dining, check out Grinders, at 417 E 18th St., which has been featured on Food Network's Drive-ins, Diners and Dives. Grinders serves some of Kansas City's best burgers and pizzas. To top it off, get a "big ass order" of death wings. Grinders also hosts concerts at Crossroads KC, an outdoor music venue located behind Grinders. For more information, visit www.grinderspizza.com and www.crossroadskc.com.
I stumbled upon Hamburger Mary's with a friend, not knowing we would be accosted with bright purple and pink, Cyndi Lauper and Marilyn Monroe-style vintage Hollywood-glam memorabilia. Hamburger Mary's is at 101 Southwest Boulevard.
My personal all-time favorite restaurant is Lidia's, at 102 West 22nd Street. The Pasta Tasting Trio was exquisite and well worth the $14. Although Lidia's tends to be a bit pricey, the food is well worth it, and the environment, which features blown glass chandeliers, is unparalleled.
For a map of the Crossroads and listing of galleries, restaurants and shops, along with website links, check out www.kccrossroads.org.
Up next week: 18th and Vine Jazz District and Kansas City barbecue showdown