Brad Warner talks 'Sex, Sin & Zen' at Unity Temple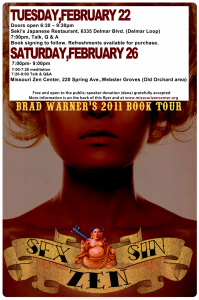 The zipper. What a fascinating contraption. It represents a passageway an access point to that which we crave. Occasionally, we open that door under false pretenses. Sometimes we unzip prematurely. There's an ethic to it and a code to be followed.
On Thursday, author Brad Warner gave a lecture at Unity Temple on the Plaza about his new book titled "Sex, Sin & Zen."
In it, Warner talks about the trials and tribulations of being a Buddhist monk and acting accordingly. In particular, Warner focuses on the Buddhist ethics of sex.
Warner immediately struck the audience with his many peculiarities. His public speaking abilities were perfectly adequate, but he often veered off topic. On occasion his words would hit home though, and when they did it became clear how much self-reflection he puts into his work and how thoughtful his writing is.
It was obvious to see, though he joked a bit on stage, that Warner takes his craft seriously.
After Warner concluded the lecture portion of his talk, he opened the floor to questions.
Everyone sat in perfect quiet. Perhaps a few were formulating thoughtful questions in their heads before posing them.
After a time questions came flooding in. Most were in reference to his earlier works.
There was a casual mood as he spoke. He wore a college T-shirt beneath a simple button-up and jeans. His tone was lax and the words seemed to effortlessly escape his mouth. During his many humorous anecdotes' punch lines, he would change his voice a bit, making it of a higher pitch. When he did, it added an amusing layer to his lecture.
His stage presence throughout had such a laid-back air to it. It was gratifying to see him act so cool about the whole thing and to not impose a formality to the event.
As Warner's book teaches, we sexual beings all have to look inside and internalize. Before that zipper falls, before too much is down around your ankles, ask yourself if this is something that stays or goes and then ask yourself if you can live with it. As a sexual being, it's your responsibility.
In addition to his writing, Warner also plays bass, creates artwork and is a filmmaker. His band, Zero Defex, released a self-titled album back in 2008. Warner has also written the popular books "Sit Down and Shut Up" and "Zen Wrapped in Karma Dipped in Chocolate."
You can learn more about Warner at his blog: http://hardcorezen.blogspot.com/.