Player of the Week: Shakira Thomas sprints to success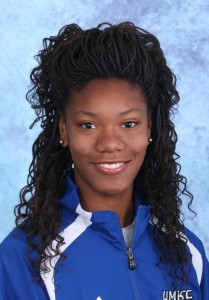 Shakira Thomas, a sophomore studying nursing, made a splash this month at the Buena Vista University Dennis Young Classic track meet in Storm Lake, Iowa. At the annual event, she placed first in the 55-meter sprint with a time of 7 minutes, 19 seconds, and first at the triple jump at 37-04.00, earning her the fourth and fifth all-time records for UMKC, respectively.
Thomas is from St. Louis, where she started running her freshman year at North County Technical High School.
She has been involved in athletics ever since, and has a strong drive for success.
"A lot of my hard work [ethic] comes from me, just really thinking about what I need to do," said Thomas, who plans to go even farther in the future.
Her goal is to eventually score 20 feet at the long jump and 40 feet at the triple jump.
A main source of inspiration for Thomas has been Coach Benaud Shirley, who she said pushes her to do the best.
The training process isn't easy. Thomas works out five days a week running, sprinting and lifting weights.
Overall, she said despite the hard work, she finds track to be a positive experience.
"Last year I was frustrated," Thomas said. "This year [track helped me to] be more focused. I've matured."