Avatars at the Nelson-Atkins Museum of Art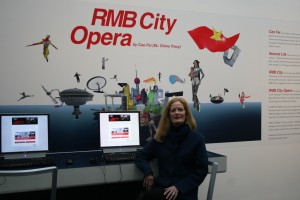 As of Friday, Feb. 5, visitors to the Nelson-Atkins Museum of Art can explore the virtual world of avatars in the installation of RMB City Opera.
RMB City Opera is an innovative video. It is the work of contemporary Chinese artist Cao Fei.
The Nelson-Atkins Museum is the first place in the United States to host this installation, and it is the only place in the world to host it at the moment.
The installation's curator, Leesa Fanning, is a UMKC Alumna.
"[RMB City Opera] is really amazing," Fanning said. "Cao Fai created it using Second Life technology."
Second Life technology is a tool for creating a virtual world – the Second Life world. Its creator is Linden Lab, of San Francisco, CA. "(It) is a shared experience, where individuals jointly inhabit a 3D landscape and build the world around them," said Linden Lab via http://lindenlab.com.
Cao's 3D landscape is RMB City. It is open to the public, but it could be closing its doors in April, Fanning said. RMB City Opera is an expansion of the online art community of RMB City.
"It is really vast. When you go into [RMB City], you have to make arrangements to meet someone there, [otherwise] you wouldn't find each other," Fanning said.
In the actual video installation, two protagonists, a man (Nemeth) and a woman (Masala) perform on a stage. As viewers watch their performance, they also see their avatars interact in RMB City on a screen directly with the actors.
Nemeth's and Masala's avatars take on a variety of identities. These range from Red Army soldiers, to figures resembling Trinity and Neo from the science fiction film, The Matrix. Cao also uses icons like Superman and Superwoman, Batman and Batwoman, or the futuristic female heroin, Leeloo, from The Fifth Element.
Some of the architecture in RMB City parallels the real world. Among these buildings are Beijing's Olympic Stadium (the Bird's Nest), New York's Guggenheim Museum of modern and contemporary art and Shanghai's Pearl TV Tower.
"(Cao) is part of a young generation called the New New Human Beings, and they embrace all things global, diverse, new, old, young, intellectual and non-intellectual," Fanning said. "Pretty much everything goes with this group."
The New New Human Beings generation uses technology as a means of subversion.
"They like to use their computers, cell phones and social media to try to sort of evade China's political restrictive policies," Fanning said.
RMB City Opera plays with a variety of references to the People's Republic of China, its history, culture and troubles. There is a giant panda lurking in the 3D landscape. The city's locations bear names like the People's Water Park, the People's Love Center, or the People's Factory.
Fanning's avatar, Spiritweaver, interviewed Cao's avatar, China Tracy, in RBM City and readers can drop in on the conversation at www.nelson-atkins.org/rmbcityopera.
Fanning asked about Cao's future projects.
"What is she going to do next? We don't know," Fanning said. "She said she is going to ride on the current of whatever comes along next."
As for Fanning, she is an Associate Curator of Modern & Contemporary Art at the Nelson-Atkins, with a Masters in Art History from UMKC and a PhD in Art History from KU.
"I have a very strong connection to UMKC," Fanning said. "I got my masters degree there and over the years I have taught Art History there, particularly Contemporary Art."
At the moment, Fanning teaches an on-campus seminar on 20th Century Art. She is a former student of Dr. Francis Connelly from the Art History department.
RMB City Opera will be showing until June 5 in the Project Space Gallery of the Bloch Building.