Roos drop the ball against Oral Roberts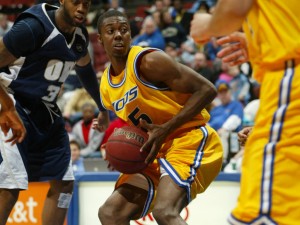 UMKC's game against Oral Roberts University (ORU) on Thursday, Feb. 11 was an interesting one. Though rather one-sided, the game featured moments from the Roos that impressed the crowd.
Fans kept their morale up for the better part of the entire game, perhaps most attributable to the work of the famous Roo Crew.
Its primary proponent, a gentleman by the name of Andrew Miller, says that he sees his Roo Crew duties as a responsibility to UMKC.
The Roo Crew is always looking for dedicated Kangaroo fanatics to join their illustrious group of hecklers. It's a fantastic way to get yourself integrated into UMKC's community and, in particular, its athletic activities.
The final score for the game was 102 to 81, with ORU taking the big 'W.'
Matt Brown, the Roos' head coach, could be seen everywhere in the crowd.
Not because of his omnipresence, but because of all the photographs of him, stapled to paint sticks and held up by Roo fans in the stands.
For a dollar donation to help support the fight to find a cure for cancer, fans got their own Matt Brown mask.
The Roos made a few solid efforts throughout the game in attempts to come back from their impressive deficit.
Paramount among them was a 4-point foul shot and a deadly accurate three pointer here and there, but, alas, it wasn't enough.
ORU had a giant on their side. He looked more like an NBA player than anything you'd likely see in a collegiate level game.
No. 32, Damen Bell-Holter, was a nightmare for the Roos.
His massive six-foot-nine-inch stance held strong against all of the Roos' efforts to strip him of the ball.
Once again, the chicken launch took place during the game, and, as always, the dance team did their fantastic, fantastic thing.
Sometimes a basketball game really does become less about winning or losing and more about having fun.
Even though they couldn't get a win, with the Roo Crew's assistance, and a cheerleader or two, the Roos had no trouble in providing a fun atmosphere for all us Kangaroo fans.