UMKC Alumni's Experience in KC's Jazz Community
With the voices of Frank Sinatra and Dean Martin echoing from his grandparents' record player, UMKC alum and singer Matthew McDowell's love for jazz music began to form.
  As he grew up, McDowell's passion for the art form flourished as he participated in the different music departments throughout middle and high school.
  "I decided when I graduated high school I wanted to do something with music because I felt like I have this talent, this gift, and I should utilize it," McDowell said.
  With his parents wanting him to stay in-state, McDowell attended a school that sits in the heart of jazz music: the UMKC Conservatory. 
  Retaining its cultural significance since the 1920s, Kansas City is home to the American Jazz Museum and over 200 jazz venues.
  "We have a really cool scene here. We have multiple venues for live jazz music, and it's killer," McDowell said. "When people come to Kansas City, they know that we have jazz here, and the people that do want to hear it will seek it out."
  Despite UMKC's intimacy with one of the "cradles of jazz," its conservatory lacked a jazz vocal program, leaving McDowell's musical journey undetermined.
  The alum wanted to dip his toe in musical theater, but the program ceased his sophomore year because of budgetary reasons. As a result, McDowell studied vocal performance with a focus on classical music and opera in the rooms of Grant Hall.
  "I learned [I] had a knack and newfound love for opera and classical music," McDowell said. "It was a great place to learn. All the teachers there were so welcoming. I just enjoyed that thoroughly."
  McDowell experienced unforgettable memories thanks to the Conservatory. For example, he shared the Kauffman Center's stage on opening night with Broadway star Patti LuPone. 
  After graduating in 2014, McDowell still wanted to continue a musical path with jazz. He began attending professional open mics at different bars and clubs known as "jazz jams."
  "You meet other local musicians, and you get to collaborate with them and perform numbers," McDowell said. "I love collaborating, and I rather work with other people."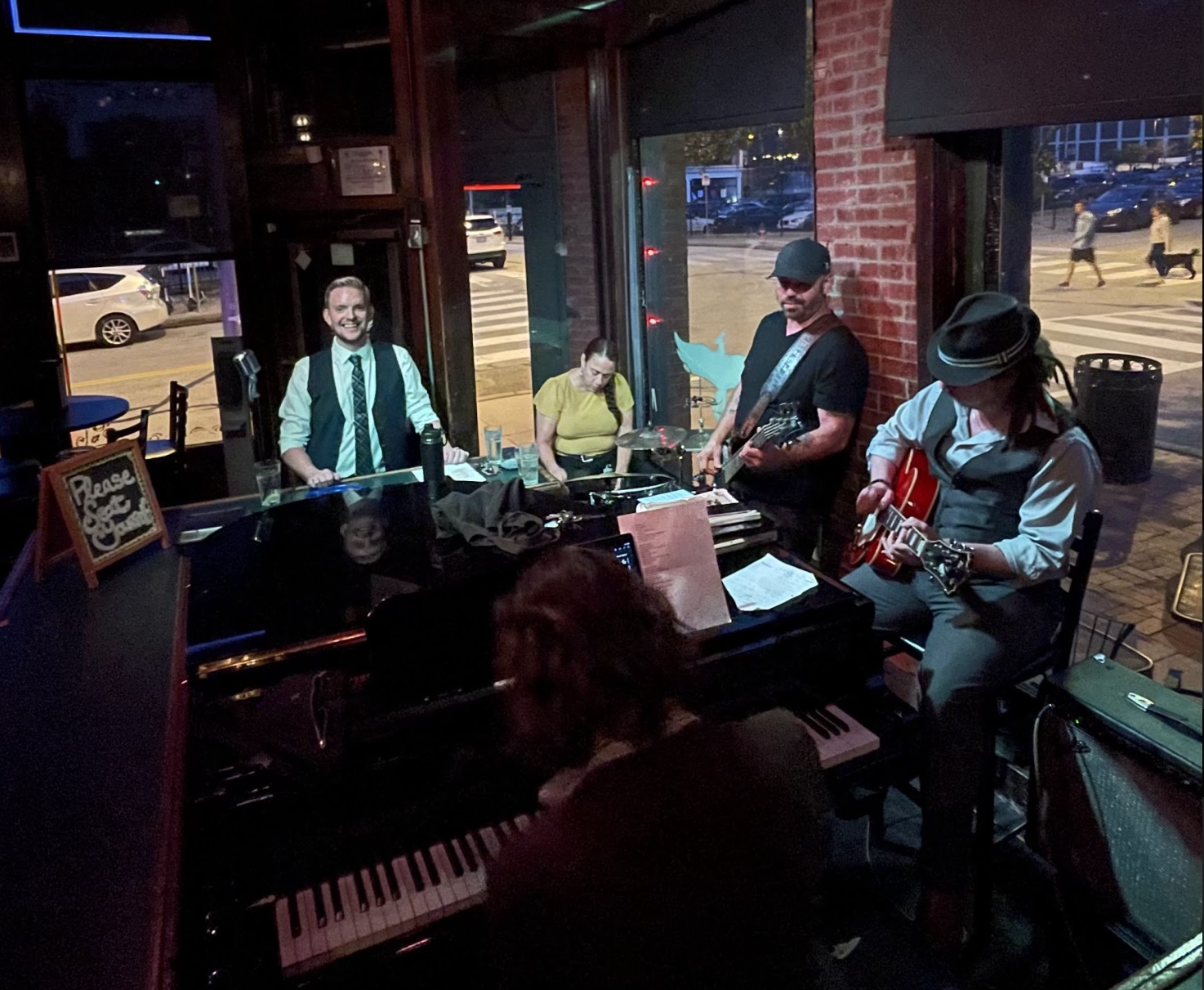 One day, the manager of The Phoenix, one of Kansas City's oldest jazz and blues clubs that McDowell visited regularly, handed the performer her business card, saying she would book McDowell if he got a band together. He then formed the McDowell Company, in which he has his musicians switch-out continuously.
  "I always dreamed of performing with a big, old-school, Sinatra-style, 16-piece jazz orchestra behind me while singing. Of course, that's not financially feasible," McDowell said. "I always had in my mind that my company would always change because I liked the idea of involving other musicians in the city. It has always continued to change which has been fun."
  The McDowell Company now frequently plays at The Phoenix and Johnnie's Jazz Bar & Grille at both the Liberty and Power & Light locations.
  Though singing is not McDowell's full-time job, his passion for the stage has never wavered. He said he thrives off of an audience. Even as McDowell sang the U.S. national anthem for the Kansas City Royals this summer, he felt no fear in front of the crowd of thousands. 
  "Performing is sensational," McDowell said. "I get to see them feel the music. Whether it's my singing or just the song itself, I like getting the emotion out of people. It's fun to make people laugh and to make people happy. Even bring a tear to their eye because you know they needed that moment."
  McDowell's advice for UMKC Conservatory students is simple: "Learn everything you possibly can."
  "You build on your skill set, and you only get better and better. Never stop learning, because I continuously miss taking classes," McDowell said. "Maybe that's the Virgo in me, but I wish that I was still in school just for the learning aspect."
  McDowell said he wishes to continue his love for jazz in whatever form it may take.
  "I've had a few years on me to consider what I want to do with my future; and I still want to have music involved no matter what," McDowell said. "I am a professional musician, but it doesn't pay the bills right now. I hope one day it will. I hope that one day my job can just be to sing."