Dance seniors prepare for future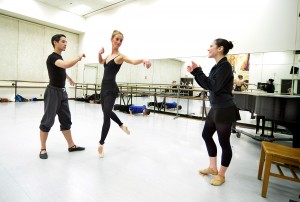 Despite delays due to snow days, Dance Division graduating seniors are working hard to prepare for their senior recitals this coming week. The senior recitals serve as the capstone project in the dance program, so seniors are bustling with great excitement to prepare their pieces, graduate, and embark on their dance careers.
Senior dance recitals will be held on Feb. 12, 16 and 19. Each recital will be a unique program created by, and/or performed by, the graduating seniors. All performances will be held in the Performing Arts Center's White Recital Hall, and will be free of charge and open to the public.
This year's graduating class will present three different recitals. Each recital will be under the direction of a different faculty: DeeAnna Hiett for Recital I, Sabrina Madison-Cannon for Recital II, and Ronn Tice for Recital III.
The first recital (Saturday, Feb. 12, 7:30 p.m.) will feature Pamela Auinbauh, Marie Buser, Abigail Engelhardt, Andrea Mason, and Kelanie Murphy.
The second recital (Wednesday, Feb. 16, 7:30 p.m.) will feature the works of Miyesha McGriff, Stephanie Morrow, Erin Muenks, and Michael Tomlinson.
The third recital (Saturday, Feb. 19, 7:30 p.m.) will feature presentations by Willa Dock, Shannon Hutsler, Sara Rothhammer and Hayley Turner.
Conservatory Dance students are required to perform in student recitals as part of their degree program requirements, to choreograph a faculty-approved composition to be performed in recital, one group piece and one solo piece, and also required to perform a faculty-approved recital solo, either choreographed by the student or by an approved choreographer.
Dance majors learn an academic perspective to dance and its relation to the other arts forms, including subjects such as the history of dance, the kinesiology of dance, visual arts, acting, music appreciation and the history of jazz, among other subjects. Dance majors are also required to fulfill general education requirements, including computer courses, English, etc., just as other students are required to do.
Recitals are offered free of admission and open to the general public. More information available online at http://conservatory.umkc.edu/calendarofevents.asp.
Looking ahead:
The Conservatory's Dance Division will be presenting the annual Spring Dance Concert April 14, 15, 16 at 7:30 p.m. and a matinee April 16 at 2:30 p.m. in White Recital Hall. Tickets will be available to the general public.
Wylliams/Henry Contemporary Dance Theater will be presenting their annual Spring concert 8 p.m. May 13 and 14, in PAC's White Recital Hall. Ticket information available online at http://wylliams-henry.org/ .