Happy 150th Kansas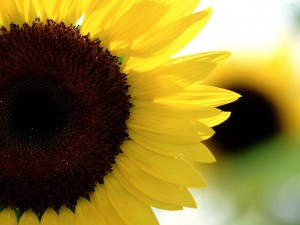 On Jan. 29, 2011, Missouri's next-door-neighbor, Kansas, celebrated its 150th birthday.
In 1861, Kansas entered into the Union as the 34th state, and since then has gone on to make a name for itself among its stately siblings. While Kansas is officially nicknamed The Sunflower State, it boasts more than just agricultural achievement.
In honor of Kansas' 150th anniversary of statehood is a list of five things Missourians, Kansans and anyone else for that matter, should know and appreciate about that "little state on the prairie."
1. Kansas, while not the center of the universe, is indeed the center of the United States. It's located an equal distance from both the Pacific and the Atlantic oceans, and the exact central point is found in Smith County, near Lebanon.
2. Several notable Americans once called Kansas home. U.S. President Dwight D. Eisenhower grew up in the city of Abilene. Maurice Greene, the Olympian once considered the fastest man on Earth, was born in Kansas City, Kan. William Allen White, a renowned newspaperman, among other professions, lived in the city of Emporia where his home is now a historic site. Poet Langston Hughes, actor Denis Hopper, and flight pioneer Amelia Earhart all called Kansas home.
3. Kansas is actually not the flattest state in the U.S. Although a scientific study once attempted to prove Kansas was literally "as flat as a pancake," Kansas is between the 20th and 30th flattest states in the nation. Florida, Louisiana and Illinois all out-flat Kansas.
4. To further prove that Kansas has a little more oomph than one might expect, turn to the west. Mount Sunflower, though technically not a mountain in any shape or form, is the highest point in Kansas. The "mountain" is located just half a mile from the Colorado border. While its peak is 4,039 ft. above sea level, it's said that the mountain is indistinguishable from the rest of its surroundings.
5. The state of Kansas is full of landmarks, some of them historic and some truly quirky. Located in the city of Hutchinson is the Kansas Underground Salt Museum, the only underground salt attraction in the Western Hemisphere. Ruts left from wagon trains are still found along the Santa Fe Trail in Kansas. The world's largest ball of twine is located in Cawker City. Located in Wamego is "The Wizard of Oz" Museum, which features a recreation of Dorothy's Kansas home. Lucas, Kan. is called the "Grassroots Art Capital of Kansas." Inspired by his religious convictions and beliefs in the Populist Movement, school teacher and farmer Samuel P. Dinsmoor created the Garden of Eden in Lucas, Kan. It houses over 200 concrete sculptures and is home to the the Grassroots Art Center.
More information can be found at www.kansas.gov.