"The Roommate:" Sleep with one eye open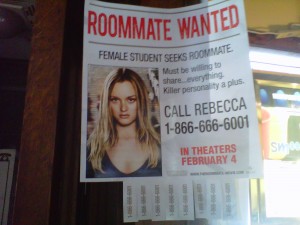 "The Roommate" brought out a young crowd. The youthfulness in the audience may be attributed to the two leading ladies. Leighton Meester, who plays Rebecca, is a star of the hit show "Gossip Girl." Minka Kelly, playing Sara, is a star on one of the best shows on television, "Friday Night Lights."
This being said, I went into the movie with one pre-determined thought in the back of my mind. The previews led me to believe that this would be a typical teen horror movie, with plenty of sex, drugs, and rock 'n' roll.
Surprisingly, there was no sex, and there was no drug use. There was a little rock 'n' roll, but that was due to the fact that Sara's boyfriend, Stephen, played by Cam Gigandet (of "Twilight" fame), is in a band.
"I think it's so scary and it's sexy and it's fun and it's exciting, it's a ride," Leighton Meester said.
The film starts as the two main ladies befriend each other, with Sara and Rebecca meeting and hitting it off quite nicely. For the first part of the movie, Rebecca's character seems quite innocent, very caring and maybe a tad bit over-protective of her new friend.
This, of course, does not last for long. To Sara, she still portrays the sweet, innocent girl who cares about her new best friend. But anybody who upsets Sara, and who might possibly get in the way of their friendship, pays for it as Rebecca threatens and/or hurts them all.
Meester describes the concept of the roommate:
"You go to college, you're without your parents for the first time, and you're paired up with someone who is literally going to be in your space 24-hours a day and has a lot of access to you."
I was mildly impressed with this movie. I went into it with low expectations, because I was afraid it would be just like every other teen horror movie that has ever been made. But I was pleasantly surprised.
There were a few parts in the movie that made me jump, and the story line wasn't as predictable as I thought it would be. The lead female roles weren't quite the stereotype, and Stephen's character was a nice balance that provided a few laughs.
Because of the fact that I'm 25 years old, I feel that I might be at the high end of the target audience the movie is shooting for. Because of this, I feel you will have a more enjoyable experience seeing this movie if you are between the ages of 17 and 21.
Overall, "The Roommate" was a decent movie. It had a few new things to add, and incorporated them with the typical teen thriller ideas. However, you could definitely wait 'til it comes out on DVD.