Big Brothers Big Sisters creates new initiative to increase volunteers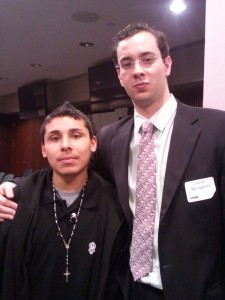 On Jan. 27, NBC Action News anchor and UMKC professor Cynthia Newsome taught her students the proper tools to transform the educational sphere with her broadcast management course.
Last semester was Newsome's first teaching experience at UMKC. She patterns her class after NBC's hit reality game show, "The Apprentice."
Each team has a project manager and various assignments to complete.
This semester, the two teams are One Team, One Dream and Communication Ambassadors.
Their first assignment is to assist Big Brothers Big Sisters (BBBS) of Greater Kansas City with their new initiative which involves college students becoming BBBS volunteers.
On Thursday the teams attended the new initiative celebration at UMB Bank on 10th Street and Grand Boulevard.
UMB is a financial contributor to BBBS.
"The goal [of the new initiative] is to increase the number of 'bigs' in the Kansas City Metro area," said UMB Bank Senior Vice President and BBBS Board Member, Chris Hernandez. "We resonate very much with Big Brothers Big Sisters mission to improve the future of KC by positively impacting the lives of at-risk children."
Newsome's class will have the challenge of getting as many UMKC students as possible to sign up.
There are 250 kids waiting for a "big" (big brother or big sister).
The objective is to have all of them paired up with a volunteer by July. There are two different types of programs volunteers can be a part of: the traditional program or the Kauffman program.
Traditional volunteers are asked to meet with their "littles" (little brother or little sister) at least two to four hours a week for one year.
Kauffman volunteers are educated adults paired specifically with high school students and are asked to meet with them once a month.
Current UMKC pre-law student and Administrative Vice President for SGA Lucas Whitworth attended the event with his little, Joseph Garcia, who is part of the Kauffman Program.
Whitworth has been a big brother to 16-year-old Joseph for about two weeks.
"It's more rewarding than I ever expected. I learn more from him then he could ever learn from me," Whitworth said.
Another BBBS match at the event was Tahir Artwater and 11-year-old Maurice Ivory in the Traditional Program. Artwater has been paired with Ivory for three and a half years.
"I really wanted to be involved in the community in a facet where the process would be ongoing instead of just a one-time thing," Artwater said. "Being a big brother develops a lifelong friendship."
Artwater is also a caseworker for BBBS.
"The process of pairing involves interviewing the volunteers as well as the children to create the perfect match," Artwater said. "The volunteers are given a selection of kids they match up with to choose from. It's not a forced relationship. And caseworkers check up on the volunteer and the child at least once a month to discuss progress in the relationship."
BBBS will begin their city-wide college student recruiting events in April.
If you are interested in becoming a "big," be sure to attend the recruiting event when it comes to UMKC.
For more information, visit www.bbbskc.org or call 816-561-5269.