Men's basketball exacts revenge against South Dakota State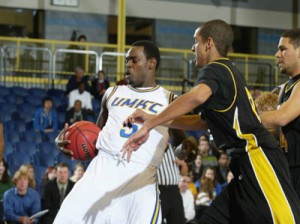 The Roos exacted some revenge against South Dakota State last Thursday night, defeating the Jackrabbits 63-58 in Brookings, S.D. The Roos only loss at home this season came at the hands of the Jackrabbits, when they lost 91-71 Dec. 30.
Senior Spencer Johnson had a spectacular game, scoring 15 points and grabbing 14 rebounds. He tied UMKC's school rebounding record of 639.
The Roos came from behind to win this game. They were down 33-25 at halftime, and had an uphill battle ahead of them going into the locker room.
But they finished the game strong, overtaking the Jackrabbits in the second half. Bakari Lewis scored a team-high of 17 points, and Max Rockmann hit seven out of his eight free throw attempts.
The Roos outscored the Jackrabbits 38-25 in the second half, and with that, pushed their overall record to 13-8, 6-4 in the Summit League.