Kris Kobach: Good, bad or ugly?
Former law professor is a controversial figure in the illegal immigration debate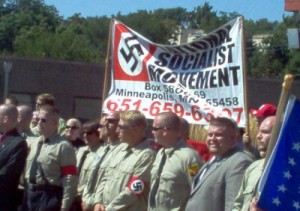 Few other professors have received the same publicity in recent years as Kris Kobach.
The Ivy League-educated former law professor, on leave as Kansas Secretary of State, has spent the past six years fighting illegal immigration from sea to shining sea.
In 1996, Kobach became a professor at the UMKC School of Law.
In 2001, one week before the Sept. 11 attacks, he was awarded a prestigious White House Fellowship and became Attorney General John Ashcroft's chief advisor on immigration law and border security.
But it wasn't until the April 2010 passage of Arizona's controversial illegal immigration law SB 1070, which Kobach co-authored, that he received widespread national press.
The new law earned Kobach acclaim from the right and disdain from the left.
Illegal immigration is a federal offense throughout the U.S., but the passage of SB 1070 made Arizona the first state to make illegal immigration a state crime. It also gave state and local law enforcement officials the ability to demand a suspect's proof of legal presence and arrest suspected illegal immigrants without a warrant. However, the law's wording also does prohibit racial profiling.
U.S. District Judge Susan Bolton has since ruled portions of the law violate Constitutional provisions against unreasonable search and seizure, but that hasn't fazed Kobach, who is currently defending the law in courts and recently won the Secretary of State's office by a landslide margin.
"Kris Kobach, 44, is a Professor of Law and lawyer who litigates against the ACLU (American Civil Liberties Union, a civil rights organization) in courts across the country," Kobach's campaign website reads. "Kobach defends cities and states that are trying to reduce illegal immigration."
Others aren't so fond of Kobach, including the Southern Poverty Law Center (SPLC), a civil rights organization that lists Kobach as one of 20 leading nativist (anti-immigration) figures.
"I would say that Kris Kobach has done more to rile up communities around the issue of immigration than any other figure," said Heidi Beirich, Director of Research for the SPLC. "These laws he's been pushing in small towns as well as Arizona have been devastating to those communities. They're expensive, they're losers in court, and the basic result is racial strife."
In 2006, Kobach became an Of Counsel attorney for the Immigration Reform Law Institute (IRLI), a not-for-profit legal affiliate of the Federation for American Immigration Reform (FAIR), which supports reducing legal immigration and deporting illegal immigrants.
FAIR, which received more than $1 million in start-up funds from the Pioneer Fund, an organization that supports studies of racial IQ differences, was designated a "hate group" by the SPLC in 2007.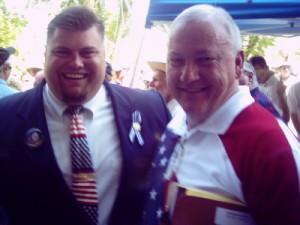 FAIR spokesperson Kristen Williamson said SPLC's claim was "unfounded," but a letter on FAIR's website, www.fairus.org, conceded to receiving funds from the Pioneer Fund.
Kobach stated the SPLC was a "left-wing hack organization."
"They make a living smearing the reputation of good people," Kobach said. "They don't interview the people who work at the Federation for American Immigration Reform and other organizations because they would find out the organizations are neutral."
But many dispute FAIR's neutrality.
According to Beirich, FAIR has distorted data and research to support anti-immigration views.
FAIR's website features articles attacking immigrants, legal and illegal.
One, titled "Unlicensed to kill," blames illegal immigrants for intoxicated hit and run crashes.
Another article claims immigrants have reintroduced infectious "third world" diseases to the United States, and another lists violent crimes committed by illegal immigrants.
A bar graph on FAIR's website shows the foreign-born population in the United States tripling between 1900 and 2000, whereas official Census data shows the percentage of foreign-born persons declining over the same time period.
FAIR's bar graph is followed by tables listing the country of origin and languages spoken by immigrants, emphasizing the increase in Mexican-born and Spanish-speaking immigrants.
Kobach's research appears on IRLI's website.
Regardless, supporters of FAIR and IRLI, including Kobach, say anti-illegal immigration measures aren't about race, ethnicity or national origin.
They cite a variety of other reasons, including the strain illegal immigrants place on states' welfare and education budgets.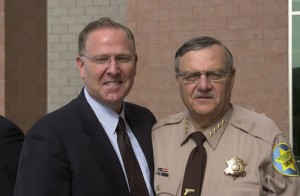 For others, it's preventing crime and terrorism.
"I could not care less whether they come from Mexico or Germany or Japan or China," Kobach told The Huffington Post. "An alien who also is here with terrorist intentions can carry any passport. This isn't about race or national origin."
Some have a hard time seeing the disconnection.
FAIR's founder, John Tanton, has made racist remarks in the past.
In a 1986 memo, he wrote, "As Whites see their power and control over their lives declining; will they simply go quietly into the night? Or will there be an explosion?"
In 1997, Tanton told the Detroit Free Press, failure to secure the Mexican border would cause the United States to be overrun by immigrants "defecating and creating garbage and looking for jobs."
According to opensecrets.org, a site that tracks campaign donations, Kobach received $10,000 from U.S. Immigration Reform PAC, a political action committee chaired by Tanton's wife, for his unsuccessful 2004 U.S. Congressional bid.
Other candidates who received donations from PAC include Tom Tancredo, a Colorado Republican who called Miami, Fla. a "third-world country" because of its large immigrant population, and the late Robert Byrd, a West Virginia Democrat and former Klansman.
More recently, controversial Maricopa County, Ariz. Sheriff Joe Arpaio appeared at a Kobach fundraiser in Overland Park, Kan.
On Sept. 2, 2010, the U.S. Department of Justice filed a complaint against Arpaio in the U.S. District Court of Arizona for refusing to cooperate with a federal grand jury investigation of his office.
The investigation dates back to 2008, when the ACLU sued Arpaio for racial profiling and other civil rights abuses.
Arpaio dismissed the federal lawsuit as politically-motivated "harassment," The Washington Times reported.
Earlier in 2010, Kobach worked with Arpaio to train Maricopa County officers on how to detain suspected illegal immigrants.
In an interview with Phoenix Fox 10 regarding his work with the Maricopa County Sheriff's Office, Kobach accused the SPLC and Anti-Defamation League (ADL) of slander.
"Whenever they find someone who opposed illegal immigration and is actually doing something about it, they smear that person," Kobach said, "and they have engaged in slander against me. They've called me some hateful things. They've implied that I'm nativist or racist, and those attacks really hurt, 'cause I don't have a racist bone in my body."
Racist bone or not, Kobach's reception among some minority organizations hasn't been favorable.
Kobach's Arpaio fundraiser was picketed by members of the National Association for the Advancement of Colored People (NAACP).
Will Suarez, a spokesperson for the Kansas-Missouri Dream Alliance, a pro-amnesty group, said he fears Kobach will try to bring legislation similar to SB 1070 to Kansas.
"I was sick to my stomach when I heard he was running to become Secretary of State," said Suarez, a Peruvian-born U.S. citizen. "We do not need any more hatred."
Suarez feels the political climate in the United States has become increasingly hostile toward Latinos in recent years.
"There's been sort of a backlash after 2007 after Latinos came out and went on the streets trying to pass immigration reform," Suarez said. "I think there's a lot of fear mongering and blame placed on Latino people. People who come here are hard-working people. When they cross the border, they know that they can die doing that. They don't come here to take advantage of the system."
Kobach disagrees.
According to Kobach, the concept of state citizenship was prevalent during the 1800s and recognized under Article IV of the U.S. Constitution.
His latest endeavor is working with state legislators to draft legislation that will resurrect state citizenship and issue separate birth certificates to children of legal residents and those of illegal immigrants.
Arizona State Sen. Russell Pearce, who sponsored SB 1070, has already proposed new legislation to do exactly that, although the second part of Kobach's proposal will require Congressional approval of a compact between states.
The goal of the legislation, Pearce told Fox News' Brian Sullivan, is to prompt a Supreme Court Case that will challenge the interpretation of the 14th Amendment, which states "All persons born or naturalized in the United States and subject to the jurisdiction thereof are citizens of the United States and of the State wherein they reside."
Kobach said the 14th Amendment was never intended to give citizenship to the children of illegal immigrants.
Pearce and others in his camp believe birthright citizenship is an incentive for illegal immigration.
Pearce has also drawn criticism for his connections.
One of his close friends is J.T. Ready, a prominent White supremacist figure, who Pearce ordained in the Mormon Church and endorsed for Mesa city council, the Phoenix New Times reported.
Arizona newspapers have reported Pearce knowing of Ready's White supremacist views.
The two have also been photographed together at anti-immigration rallies, and Ready has been photographed wearing the Nazi swastika. A photograph can be found on the SPLC's website, www.splcenter.org, which also includes Ready on the same list of Nativist figures on which Kobach appears.
Some believe Kobach will use the Secretary of State position as a platform to target illegal immigration.
"It's clear he's going to use the Secretary of State position to further his anti-immigrant position," Beirich said. "Kobach has built his career on Nativism."
In 2004, Kobach filed an unsuccessful lawsuit to repeal a Kansas law that allows illegal immigrant swho graduated from Kansas high schools to pay in-state tuition rates at Kansas colleges.
As Secretary of State, Kobach has already pursued the issue of illegal immigrants voting.
"In Kansas, the illegal registration of alien voters has become pervasive," reads Kobach's campaign website, which also states, "Our voter rolls must be purged of thousands of deceased individuals, illegally-registered aliens, and felons.  And regulations must be promulgated to ensure honest elections and recounts."
Kobach said he will testify before the Kansas legislature on Jan. 31, and will present a detailed list of more than 80 incidents of voter fraud reported to the Secretary of State's office and county elections officers.
"The statistics tell the story," Kobach said. "And I believe the incidents observed are only a small percentage of the total."
Kobach wants to prevent voter fraud by requiring a state-issued photo ID at the polls and requiring proof of citizenship at the time of registration.
Kobach's opponents disagreed about the prevalence of voter fraud, despite the fact that they lost.
"Voter fraud is not a major problem in this state," Chris Biggs, Kobach's Democratic predecessor, told the Wichita Eagle.
J.R. Claeys, one of Kobach's Republican primary opponents, didn't see evidence of massive voter fraud.
"I'm not going to say there is a whole bunch of fraud when I don't have proof of it," Claeys told the Eagle.
Some Kansas lawmakers aren't too fond of Kobach's affiliations. Others fear his outside legal work will interfere with his duties as Secretary of State.
Kansas House Minority Leader Paul Davis, a Democrat, has proposed a bill banning significant outside employment for statewide elected officials and department heads, citing Kobach as the reason.
"I think if he's allowed to do this, it sets a precedent for allowing outside practice," Davis said. "I'm really concerned about the precedent, and I think that when you assume a really high-ranking office, the duties of that office are going to be prime."
As for Kobach, he plans to continue to pursue illegal immigration and voter fraud in whatever capacity he can.
"Both of these issues affect the breakdown of the rule of law," Kobach said. "Any sovereign nation needs its laws to prevail. Once that breaks down, the nation's national security and economy are affected. With regards to voting, the public confidence in the integrity of our elections is at an all-time low. That's a danger in a Constitutional republic. It's not just a Kansas issue. It's a national issue."