Campus History: University Center has changed over time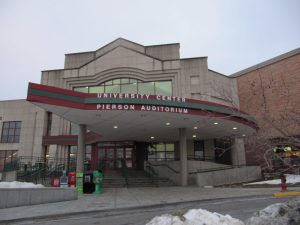 The University Center may seem neglected since the opening of the Student Union.
Many offices and spaces once occupied by campus services since the U-Center first opened its doors in 1961 now sit vacant.
This building has been referred to as "The front doors to the Volker Campus."
The building's mid-century modern façade boasts a stone exterior with a glass entrance and geometrically inspired overhang facing the University walkway.
In the past, the U-Center was as busy as the Union currently is, with less space and places to relax.
Over the past 50 years, the University's growth has eclipsed the U-Center's capacity.
Though the bookstore has departed, the U-Center still houses many features students can benefit from.
The Union Cafeteria, a staple for many residential and commuter students, is located on the first floor along with Freshens and The University Café.
One service that may seem hidden is the University Barber Shop on the ground level of the building.
Other services still residing in the U-Center is the MindBody Connection and Sodexo Food Services.
However, the U-Center may see its glory days return soon.
In December the university received $45 million in funding for campus renovations and development, including $4.1 million to update and renovate the U-Center.
Coming in 2012 the Student Success Center, which is currently being planned by a task force including Vice-Chancellor Mel Tyler and Vice-Provost Cindy Pemberton.
The Student Success Center will be geared toward student's academic success and advising for students with undeclared or undecided majors.
The Center will be made up of various pre-existing academic services including: the Math Resource Center, the Center for Academic Development and the Writing Center.
Despite the loss of the LGBTQIA Office, Multicultural Student Affairs Office, Office of Student Involvement, Student Government Association (SGA) and the Bookstore, the University Center will be put to use as it has for the past 50 years.