HRC hosts raucous battle of the bands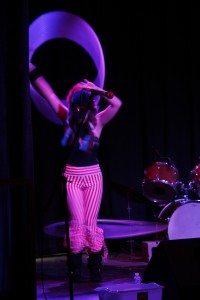 The Human Rights Campaign (HRC) hosted Her HRC Sunday, Jan. 16 at Crosstown Station downtown to promote and celebrate equal rights for the LGBT (lesbian, gay, bisexual and transgendered) community.
Proceeds benefit HRC, a grassroots force with more than 750,000 members.
Curve magazine, International Gay & Lesbian Travel Association (IGLTA) and others sponsored the event.
Her HRC brought 13 local bands, primarily with all female members, together for a friendly five-hour competition.
The first floor hosted electric music, including intense drumbeats and electric guitars, while the second floor was reserved for acoustic sets, featuring softer, lyrically-oriented music.
Kicking off the evening's festivities downstairs were The Dumptruck Butterlips, whose unique blend of musical instruments, including acoustic bass, accordion, washboard and acoustic guitar, created an intoxicating sound that filled the venue.
After the Dumptruck Butterlips performed, Smoke Monster took the stage. Smoke Monster consists of a single guitarist/lyricist and drummer, which made a simple sound that paired well with the vocal styling.
Performing on stage after Smoke Monster were The B'Dinas, who studied at the Conservatory of Music and Dance. They quickly became the crowd favorite.
Their set covered popular M.I.A. song "Paper Planes," and the crowd cheered well after the performance.
Not wanting to disappoint their adoring fans, they played one more song, a cover of the Beatles' "Don't Let Me Down."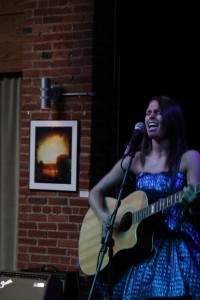 After the B'Dinas retired from rocking for the night, a special guest showed up on stage, Jen Lawless.
Lawless won the battle of the bands the year before, so she had an opportunity to play without having to worry about competition.
Her band, like the Dumptruck Butterlips, featured unusual instruments, too.
Namely a tall bongo that changed pitch depending on where the drummer would smack its surface with his palm.
After Lawless reprised her award-winning performance, Animals with Armour came on stage. The lead singer had a stage presence nearly impossible to describe.
Without an instrument strapped around his neck, he was forced to find other ways to occupy his downtime. When he wasn't belting out fast-paced lyrics, he was dancing about the stage like a chicken with its head cut off.
His boundless energy amplified the ferocity of the band's wickedness and was immensely entertaining.
After checking out some of the musical talent, I had a chance to speak with one of the event coordinators, who described the purpose of the Human Rights Campaign.
"HRC is the nation's largest lesbian, gay, bisexual, transgender movement in the country."
Later, she went into more detail about the battle of the bands event.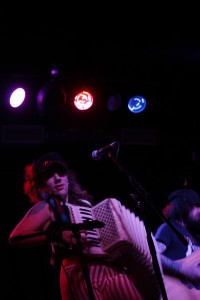 "This event is a national simultaneous event going on in about 34 different cities to celebrate women [who] are gay, [who] are coming together to support equality," she said.
For more information on the Human Rights Campaign and its involvement in Kansas City, visit www.kansascity.hrc.org.