"Big Magazines" forum: How to Get Published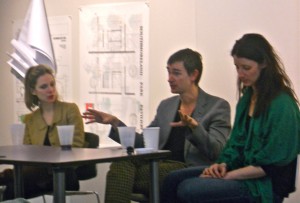 "I think [New York's] competitive, it's alcoholic, it's lonely and it's too expensive. I think if you want to write, then write somewhere where you can get the work done."
This was some of the unconventional advice offered by Harper's Magazine books editor Gemma Sieff on Thursday, Jan. 20, in Katz Hall.
Seiff was a part of the forum discussing how to get your written work published.
Philosophy Chair Clancy Martin moderated the forum. Also in attendance was Christie Hodgen, the essayist/novelist behind such work as "Elegies for the Brokenhearted."
Both panelists seemed a little uneasy with the forum's lofty-sounding name: "Big Magazines: How to Get Your Foot in the Door," with Sieff saying she wouldn't call Harper's a "big magazine," and Hodgen admitting she's never written for larger magazines.
The event drew in dozens of students, both undergraduate and graduate, as well as visitors from across the Kansas City Metro.
The audience listened closely, taking notes as the guest panelists gave the remarkably frank discussion.
When Hodgen was asked how important it was for a would-be writer to have an agent, she defied conventional wisdom by saying, "Ultimately not very important…write something good. It doesn't matter who you know or how your piece gets passed in the door. If you work really hard on something and its good, something will happen."
The audience responded well to the guests' candid nature, and when the forum opened for questions, the audiences inquiries ranged from Harper's pay rate, to advice when dealing with academic snobbery.
Because the discussion focused on magazine publishing, Sieff took the floor for most of the 90-minute discussion. She stressed the importance of writing a good pitch in order to appeal to a magazine publisher.
One tip was to read the magazine you are pitching to and not rely on what you hear from agents about what that magazine is "looking for."
Instead, she instructed, to read through their articles and get a feel for what's being published. For bonus points, you might even want to allude to previous works in the magazine.
Sieff said the big break that led to her job at Harper's began at the New York Review.
"That was a job that opened a lot of doors," she said. Although she added internships with magazines such as Harper's can help young people as well.
Martin noted magazine publishing as a career not for the faint of heart, "It's like a 50, 60, 70 hour a week job," he added.
Andrew Squitiro, a University of Missouri (MU) student, was glad to hear a point Sieff stressed throughout the panel: that "big" magazine editors read the "little" magazines.
"Most new writers take their piece and then send it in to Harper's or The Atlantic or The New Yorker," Squirtiro said, "and they don't get anything back so they figure it sucked. But really you could get it into New Letters and apparently they [Harper's] read it."