Recipe: Easy Pad Thai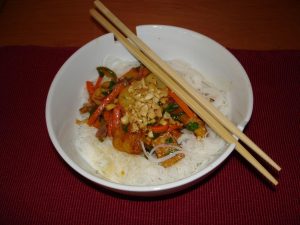 Put a few ingredients you probably already have in your pantry together in a new way and discover a quick, easy and budget-friendly Asian dish. Serves four.
One package (of lo mein, noodles)
½ to one package frozen Asian stir-fry vegetables
One package of marinated tofu (Optional, you can substitute diced chicken or beef if preferred.)
¼ cup peanut butter (or more for added taste)
3 tablespoons soy sauce
2 tablespoons honey
A dash of ginger and garlic powder
Combine peanut butter, soy sauce, honey, garlic and ginger together in a small bowl.
Adjust seasonings to taste.
In a large pot, heat 1 tablespoon oil (canola oil works well) and 1 tablespoon of the peanut sauce. Add tofu or meat and cook thoroughly, then set aside.
Boil the noodles according to package directions.
During the last 5-7 minutes of cooking, add the frozen veggies and bring back to a boil.
Drain noodles and veggies together and set aside. Add the tofu or meat back to the pot and then add drained noodles and veggies. Add the remaining peanut sauce, and toss to coat everything.
Serve immediately. If you already have peanut butter, soy sauce, honey and spices, your total cost at the grocery store will be less than $10. That's less than $2.50 per serving.
Healthy, filling and inexpensive: three good reasons to cook at home. Enjoy.