Track and field update: Roos compete at Mizzou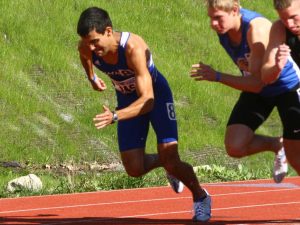 The UMKC track and field team competed in the Missouri Invitational Jan. 7 at the Hearnes Center in Columbia, Mo. Senior Alex Pena-Lopez finished the meet with the Roos best result by winning the men's 1,000 meter.
The Roos dominated the men's 1,000 meter with freshman Chris Cornell finishing third, sophomore Daniel Mann taking fourth and freshman Luke Abouhalkah rounding out the top five. Pena-Lopez's finish 2:36.33 was a personal-best, and he garnered a Summit League Athlete of the Week award to show for it.
"Alex is just starting to realize his potential," Head Coach Shameika McField said. "He's a senior now; he's just doing what he is supposed to do."
Junior Denise Banda won the women's Summit League Athlete of the Week Award for her showing in Columbia. Banda placed third in the women's weight throw with a distance of 52-5.25 feet (15.98 meters), the third best mark in school history.
"I have a lot of hope for the field side of the team," McField said. "And Denise is one reason why."
The men's mile also featured two Roos in the top five, with junior Brandon Leibold finishing fourth with a time of 4:29.20 and junior Brett Guemmer finishing fifth with a personal-best time of 4:36.85.
The women faired well in middle-distance events. The women's 1,000 meters was almost as successful as the men's two runners finished in the top five. Junior Aubrey Frederking and freshman Taylor Spencer finished fourth and fifth, respectively. Junior Sakia Taylor finished fourth in the 600-yard run.
In sprinting action, freshman Hartzell Gray finished as the runner-up in the men's 200 with a time of 23.01, and sophomore Shakira Thomas placed fifth in the women's 60 meters with a time of 7.87.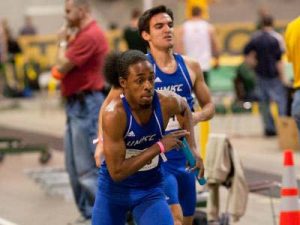 In total, UMKC had 13 top-five finishers and 15 personal records.
Coach McField discussed how intensely her athletes train to reach these goals with the focus on making nationals.
"These guys work so hard," McField said. "They are in the weight room at least three times a week, and they don't get a chance to rest."
She mentioned, however, that they didn't return from winter break in ideal condition.
"I think they could have come back in better shape," McField said. "I tell them, 'it takes 100 days to get in shape but only three to get out-of-shape.'"
The Roos competed in the Holiday Inn Invitational in Lincoln, Neb. on Jan. 14-15 and the Kansas State University Invitational in Manhattan, Kan. on Jan. 15.
Results from the Jan. 15 Kansas State University Invitational
Women's 60- Meter Dash
5th Danielle Olive
8th Sakia Taylor
Women's 300- Meter Dash
4th Danielle Olive
7th Autumn Scott
8th Jordan Bain
10th Laneisha Douglas
Women's 600- Yard Run
4th Sakia Taylor
9th Autumn Scott
10th Kelsey Koffman
Women's 1-Mile Run
11th Sara Meiners
13th Alicia Anderson
18th Erica Freiert
20th Meg Doss
Women's High Jump
4th Emily Lucas
Women's Long Jump
13th Katherin Williams
14th Jordan Bain
15th Kelsey Koffman
Women's Triple Jump
4th Katherin Williams
Women's Shot Put
2nd Susan Brueggeman
3rd Roxanne Koke
5th Kimoya Hariott
6th Denise Banda
Women's Weight Throw
6th Denise Banda
7th Susan Brueggeman
10th Kimoya Hariott
13th Roxanne Koke
Men's 60-Meter Dash
8th Hartzell Gray
9th Kevin Venerable
14th Forika McDougald
15th Darby Parks
16th Samuel Suillivan
17th Kristen Hepburn
21st Matias Bichara
Men's 300-Meter Dash
8th Kristen Hepburn
9th Hartzell Gray
13th Samuel Suillivan
17th Forika McDougald
20th Kevin Venerable
Men's 600-Yard Run
9th Darby Parks
Men's 1-Mile Run
20th Alloch Burton
22nd Dirk Hudson
24th Hossam Hassan
Men's 60-Meter Hurdles
3rd Kristen Hepburn
Men's Long Jump
6th Zach Sebo
Men's Triple Jump
1st Zach Sebo
Men's Shot Put
2nd Ramon Nelson (Set school record)
7th Kris Leverette
10th Max Carroll
Men's Weight Throw
4th Ramon Nelson
5th Kris Leverette
Dual Meet Scores
Women
KSU 88-34 UMKC
UMKC 62-51 Oklahoma State
UMKC 58-55 University of Tulsa
Men
KSU 94-31 UMKC
UMKC 56-36 Oklahoma State
University of Tulsa 56-48 UMKC
Results from the Jan. 14-15 Holiday Inn Invitational
Women's 60-Meter Dash
5th Shakira Thomas
12th Jazmine Cooper
Women's 200-Meter Dash
12th Chelsea Richardson
Women's 1,000-Meter Run
4th Aubrey Frederking
Women's High Jump Seeded
7th Kim Nagy
Women's High Jump Unseeded
8th Chelsea Jordan
Women's Triple Jump Seeded
8th Chelsea Richardson
Men's 800-Meter Run
9th Alex Lopez
Men's 1,000-Meter Run
18th Dan Mann
23rd Luke Aboulhalkah
26th Chris Cornell
Men's 3,000-Meter Run
5th Cosmas Ayebei
9th Brandon Leibolkd
Men's 5,000-Meter Run
6th Brett Guemmer
Men's Distance Medley
2nd Team of: Zach Mathias, Chris Cornell, Alex Lopez, Cosmas Ayebei (Set school record)