Alumnus receives present from fans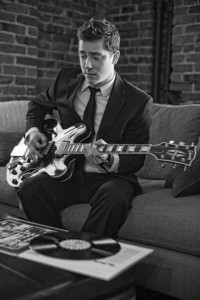 This past Christmas, UMKC Alumnus and musician Griffen Alexander received a present from his fans and friends.
Alexander recently called upon his fans to help him make his second album.
In order to make the album, he needed to raise at least $10,000 to pay for the production costs.
"Funding an album is challenging at any level, especially when you're doing it independently and correctly," Alexander said.
He partnered with a website called kickstarter.com, which claims to be the largest funding platform for creative projects in the world.
Alexander heard about Kickstarter from a friend in New York who had success as well.
The website explains, "Every month, tens of thousands of amazing people pledge millions of dollars to projects from the worlds of music, film, art, technology, design, food, publishing and other creative fields."
In 2006, Alexander released his first album, "Never in Neutral" while attending UMKC.
He graduated in May 2010 with a degree in communications.
"Rather than using my degree, I decided to pursue my dream and make music full-time," Alexander said.
According to Alexander, his first album had moderate success.
"I was signed to a recording company that was understaffed and lacked the necessary budget to promote the album," Alexander recalled. "There was absolutely no promotion for the album ,and that made things difficult."
It wasn't until Alexander went on nation-wide tours and sold his music on iTunes that "Never in Neutral" found its success.
Now, it is time to make album number two.
Due to the bad luck with his last recording label, Alexander has decided to produce his album independently.
"Having a record deal is only one way to get a record out. I have been handling all the business affairs and the creative side."
Alexander's fans were able to sign up and log on to kickstarter.com and pledge a certain amount of their own money to benefit Alexander and his album.
By pledging certain increments, fan's will recieve a token of Alexander's appreciation. Fans can receive anything from a Facebook friend request all the way to production credits on the album.
"It was something I had been working on for several months before the project actually launched," Alexander said.
Kickstarter challenged Alexander and gave him until midnight Dec. 25, Christmas morning.
At midnight, Alexander and his fans raised just over the amount, $10,050 to be exact, with a total of 117 people who supported him.
Alexander was overjoyed to receive the news of his success.
"With 23 minutes to spare I hit the mark and my family and I started cheering and hugging and my phone started going off and it really didn't stop for the next couple of days," Alexander happily declared.
"There were literally people from all over the world that pledged money for my album. Fans, friends and family raised more than $10,000 in about a month's time," Alexander said.
Alexander was shocked to find out that one of his backers pledged $1,000 to the project.
"It was actually a friend of mine from Chicago, and I am still blown away by it," Alexander said.
There were many pledges that far exceeded his expectations.
Alexander had fans in college pledging anywhere from $250 to $500 dollars to him.
"I don't really even like calling them fans," Alexander said. "They're heroes to me."
Alexander doesn't have a set date for release of his album right now but he is aiming for a spring release.
To learn more about Griffen Alexander or to hear his music, go to www.griffenalexander.com
Also, be sure to see him perform at 10 p.m. Jan 26 at the recordBar.