Mike's Tavern is back with quirks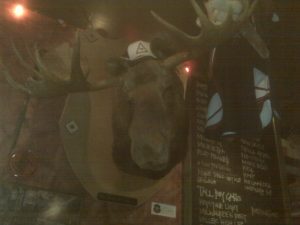 Napoleon Bonaparte once said, "In victory, you deserve champagne, in defeat, you need it."
Whether your intentions are to bask in the glory of victory or to lick your battle wounds, Mike's Tavern has the booze to fuel your revelry.
Located on the corner of Troost Avenue and 54th Street, Mike's Tavern was once regarded as a rundown, seedy dive bar.
It is now under the new management of Daniel Mulhern, and so far he's done a bang-up job in helping renovate the once-disgraced property.
Mulhern is a veteran who served overseas as a Marine in Iraq. After returning, he graduated from UMKC with a degree in business and focus in entrepreneurship. When offered the opportunity to restore Mike's back to its former glory, he jumped at the chance.
Mike's still retains that peculiar atmosphere that made it famous in the first place. Regulars who used to frequent Mike's will appreciate the moose head that still stands above the bar adorned with neckties and other ornaments.
One of Mike's Tavern's greatest assets is its proximity to campus. If Westport is your typical party headquarters, think of changing things up a bit by trucking just down the street to Mike's.
The casual atmosphere gives this tavern the edge on any evening's activities. The good music and light-hearted staff don't hurt either.
New food items and a bevy of drink specials throughout the week have sculpted Mike's into an attractive new venue for college students looking for a nearby bar.
Happy Hour is Monday through Friday from 3-6 p.m. Prices for happy hour include $1- off draws, bottles and wells.
Also, every Monday starting at 9 p.m., pints of PBR and Rolling Rock are only $1 each and Long Island Iced Teas go for just $2.25 each.
Specials for Tuesday include $2 domestic draws beginning at 9 p.m.
Wednesday, Mike's is offering $3 Boulevards from 9 p.m. to close.
Thursday's special consists of $2 wells.
Every Saturday, Mike's hosts a special event from 7-9 p.m. For just $10 at the door, you can consume all the domestics, draws and well liquor you can handle. Just make sure to designate a driver if you're planning on a long night.
Also on Feb. 2, a UMKC Jazz Band is performing. Mulhern hopes to have many more performances like it scheduled soon. The more he can integrate UMKC and the other surrounding colleges into his business, the more it can exist as a part of the community.
In keeping with Napoleon Bonaparte's wise words, let's all head down to our local tavern, drink and be merry! Cheers!