Women's basketball loses to KU Jayhawks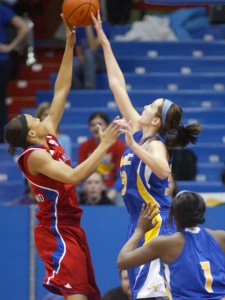 The UMKC women's basketball team traveled to Lawrence, Kan., to face the University of Kansas (KU) Jayhawks on Monday, Jan. 3.
The Jayhawks beat the Roos 56-41 in front of more than 2,000 fans at Allen Fieldhouse.
KU forward Carolyn Davis was UMKC's biggest problem of the night, scoring a game-high 27 points, and grabbing a game-high 14 rebounds, seven of which were on offense.
Throughout the night, the Roos just couldn't get their offense together. Kansas scored first with a free throw by Davis, and KU never looked back.
In fact, UMKC never took the lead in the game.
Though no other Jayhawk besides Davis scored in the double digits, not one single Roos player did either. The Roos were a dismal 1-11 for 3-point shooting, and only made 33 percent of their free throws.
One bright side offensively for the Roos was the fact that their bench scored 13 points, compared to the Jayhawks' seven points from their reserves.
On the other side of the ball, though, the Roos played fantastic defense. Powered by Ashli Hill, a Lawrence Free State graduate playing against her hometown team, the Roos held the Jayhawks to their lowest score of the year, not a small feat considering they are 13-1 this season.
Hill had a game high six blocks, while having the difficult job of guarding Davis.
Even though the Roos faltered during the first 20 minutes, falling behind by 10 at the half, Kansas only outscored them by five points in the second half.
UMKC (5-10) plays its next game against the Southern Utah Thunderbirds (9-6), 4 p.m. Saturday, Jan. 8, at Municipal Auditorium.
Statistics courtesy of www.umkckangaroos.com.