Player of the Week: Jay Couisnard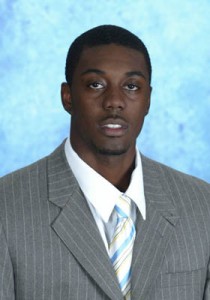 Jay Couisnard is a senior communications major at UMKC.
Jay has been the best player for UMKC men's basketball team this season, with a three-point field goal percentage of .347, scored 238 points, has scored 69 successful free throws out of 99 attempts with a percentage of .697, as of Jan. 5.
He started in all 15 games he played.
Couisnard and Bakari Lewis were the top scorers for UMKC in the game against KU scoring 16 points each.
"I have been playing basketball since I was a 2-year-old toddler," Couisnard said.
His father was a professional baseball player.
Couisnard said he is greatly inspired by his father. He said he felt that the environment of athleticism at home has helped him to be the player he is today.
Both his brother and sister play college basketball. His brother played for Wichita State University, and his sister plays at the University of Tulsa.
Couisnard said he wants to play professional basketball in the future and also wants to start his youth ministry someday.
"I really want to contribute in helping out inner city youth," Couisnard said.
Both his parents are ministers.
"I have been involved with their ministry for almost 20 years now," chuckled Couisnard, a 22-year-old Houston native.
Couisnard said his faith is his solace, and it gives him immense strength.
"If I was not a basketball player, I would have been a youth minister," Couisnard said.
When asked about the game against KU, Couisnard said he felt the Roos need to be confident, be themselves and not get overwhelmed by the opposition.
Couisnard said playing the team's own game is the way to improve performance.
The reason he chose to come to UMKC is because of Coach Richardson.
Couisnard said he is glad he chose to come to UMKC.
He is expected to graduate this semester with a degree in Communication Studies.
He said his professors and faculty advisor has helped him a lot to maintain a decent GPA and guide him toward graduation even though he is busy practicing most of the time.
Couisnard said getting an education is important and should not be neglected, even though basketball is the most important aspect of his life.