The right In-gre-di-ent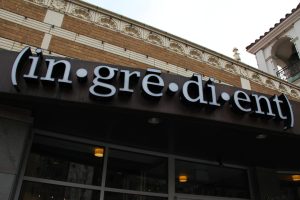 Ingredient doesn't disappoint.
The interior consists of a sleek, modern atmosphere, and dares to present an exciting difference: Fresh ingredients.
The chicken noodle soup was creamy and the sandwich filling. In every bite right down to the last one, I could taste the bacon, chicken and every other delicious ingredient that the sandwich I ordered consisted of.
The soup was the perfect pairing, too. Alongside the potato chips, the three dishes came together for a perfect midday meal.
The sleek menu and design makes Ingredient a must for a casual meal, or even a nice place to bring a special someone for a romantic night out on the town.
Comfortable seating and romantic lighting are perfect ways to impress your date. As an added bonus, it won't hurt your wallet too badly, either.
The prices are surprisingly reasonable. My sandwich cost $8.95, and included chips and a bowl of soup. The waitress was prompt in delivering my meal and was courteous.
According to the menu, tipping is not permitted, so while I appreciated the waitress' service, a simple thank you is all I could offer her.
They put a touch of humor in with that note, "should you feel the need [to tip], we recommend one of the following: Give a few dollars to charity… Say hello to a stranger… Pet a dog… Perform a random act of kindness… Put a quarter in a parking meter you see that is expired…Do something nice for yourself."
Other meals Ingredient offers are assorted soups, delicious varieties of salad, sandwiches of all kinds, wraps, Panini's and gourmet pizzas. Also offered is an adequate wine list and your typical imported and domestic beers.
Ingredient's catch phrase is "formulate satisfaction," a rather catchy mantra they live up to in that customers can choose to specify whatever their hearts desire by following the "Build It Yourself" sections of the menus.
Their pizzas aren't your typically flavored delivery pizzas by any stretch of the imagination. They're gourmet. Flavors like spinach and artichoke pizza and Philly cheese-steak pizza might just put your impressionable brain into a deep food coma.
Ingredient's menu also offers a "Create Your Pie" section where patrons choose their favorite sauce and then from three (or more for a dollar each) out of 23 ingredients.
The soups also demand attention. Creamy and delicious, the enticing aromas beg you to partake in the delicious flavor. Just use a spoon to get to the chunky stuff before you bring the cup up to your face to drink it down, or you'll end up with a face full of soup.
Ingredient is located at 4807 Jefferson St., on the Country Club Plaza and at 1111 Main St. near the Power and Light District downtown. Other locations are in Leawood, Kan., Columbia, Mo. and Omaha, Neb.
For more information, visit www.ingredientrestaurant.com.