Skill of the Week: Shoot a free throw with Peyton Adamson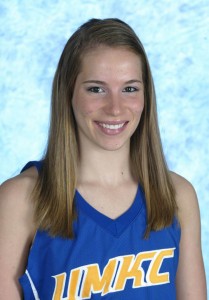 UMKC women's basketball player Peyton Adamson is a pure shooter. The 5-foot-7-inch freshman from Rockwall, Texas led the nation in three-pointers her senior year in high school and was the most accurate free-throw shooter in Texas her final three years.
Two points
Any good shooter needs confidence, which Adamson doesn't lack. Without confidence the shooter can lose focus and miss shots.
"When I get fouled, I just think 'two points,'" Adamson said. "I try to get to the line as much as possible, because that just means two easy points."
Making free throws is expected, so the act of being fouled is simply expected to generate two points.
"They are free throws," Adamson said. "They are supposed to be easy."
Line up, just like every other time
After Adamson walks to the free-throw line she immediately gets into her routine.
"I line up my right foot with the basket and I have my left foot a little farther back," Adamson said.
She demonstrates how she ensures her body is in the proper alignment, shoulders and hips squared up to the basket. She takes a look at the basket and dribbles four times with her right hand.
"My routine is important," Adamson said. "I want to do it the same way every time."
She begins to shoot, cocks her hand a bit and releases a high-arcing shot.
Hand in the cookie jar
Adamson refers to the phrase, "Put your hand in the cookie jar" when following-through with her shot.
"You want to bend your wrist a lot after you shoot to make sure you have a lot of backspin on the shot," Adamson said. "You want to aim at the front of the rim, and your hand should end up just like you are trying to put it in the hoop."
Adamson also puts a great deal of arc into her shot, ensuring it drops down into the basket and isn't shot at the basket.
Defense
After making the free throws, Adamson's first reaction is to play defense.
"You can't dwell on the last play," Adamson said. "Especially at this level. You have to think two or three plays ahead and be ready because everything moves so fast."
Adamson does have a story where she did get a few moments to dwell on a made free throw.
She explains how she was fouled on a three-point shot as time expired in the quarter final of a big Dallas-area tournament her junior year of high school.
"We were down by three, and I had to make all three to send the game to overtime," Adamson said. "The clock had run out, so it was just me, the ref and the ball."
Was she nervous?
"Maybe, I didn't really think," Adamson said. "I had practiced them thousands of times before, I just shot."
With time expired, Adamson admits to enjoying the moment a little, realizing she had just given her team a chance to win.
"That lasted until I got to the bench," Adamson said. "And coach started talking about overtime."