Miller Nichols Library welcomes robots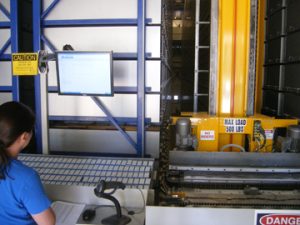 Robots are not just for building cars and repairing underwater oil spills anymore. Robots are the librarians of the 21st century.
The Miller Nichols Library invested $20 million in a robot of its own. Three cranes, four rows of either shelving or bins and the operating computer comprise the heart of the four-story giant.
"It's fully installed and operational. At this point we have loaded 187 thousand materials with a goal of 800 thousand," Bonnie Postlethwaite, Associate Dean of Libraries said. "We are making good progress."
The addition of the robot enables the library to house its catalog in one-seventh of the space previously required. To protect the quality of the materials they are kept in low humidity at 65 degrees.
"We had kind of crowded the students out with all the books," Postlethwaite said, "This was more cost effective and better for the collection because of environmental controls."
With books no longer shelved for display, they can be compactly packed in storage bins. Sound recordings and historic manuscript archives will be packed in boxes and placed on moving shelves.
"We are the first library in the country to have a hybrid system, a combination of bins and shelving," Postlethwaite said.
Now, when a patron requests a book, rather than waiting one to three days for it to come from the depository, they will have it in ten minutes. An employee will use the receipt printed by students to enter the book's code into the computer. The computer will locate the bin and which of six sectors the book is in.
The bins are divided into sectors to make finding materials faster. Once the book is located, it is brought to a waiting area for the patron. The new system will also help prevent book losses.
"[With] open shelves people will put things back in the wrong place. The book is basically lost then. We periodically had to shelf read," Postlethwaite said.
Students without specific materials in mind still have 20 percent of the library's catalog for browsing. The Miller Nichols Library intends to work closely with faculty to ensure important titles will be readily available for students. If a person wants to look at several books that are in bins, the staff will be happy to put together a cart.
"Things that circulate often will be in the browsing section," Postlethwaite said.
Employees are working hard loading books into the new robotic system so that library renovations can continue.
"For the first month it was just staffers loading the bins, and now we have fully trained students loading the bins," Amy Fortner, evening and weekend supervisor, said.
The computer system for the robot is user-friendly. The book organizational system is easy to learn. Before loading the books, staff measures their spine to see what size category they fit in.
"I went through training for an hour to learn how to operate everything with the robot," Kaneshia Lambert, a pre-med freshman said. "I don't think it's difficult. All you have to do is measure and load on the carts, then load into robot."