Are you ready for Relay for Life?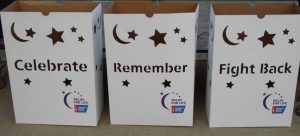 It's that time of year when planning for Relay for Life.Committee Co-Chairs Hilary Smith and Levi Rash, along with their fellow committee members, are working to organize the event that will take place April 15, 2011.
Sponsored by the American Cancer Society, Relay for Life is an annual walk-a-thon that raises money for cancer research.
Teams organize and enter the relay in nearly every state in the U.S.
For years, Relay for Life for years has been a UMKC tradition with participation from many students, faculty and staff.
As the planning commences, the committee members invite you to be a part of the action.
An informational session will be held 6:30 to 8 p.m. Dec. 1 in Student Union Room 402.
The committee welcomes all who are interested in helping to plan the event.
For more information about the planning, contact Hilary Smith at [email protected]
For information about Relay for Life, visit www.relayforlife.org.