KU Fall Dance Concert dedicated to late professor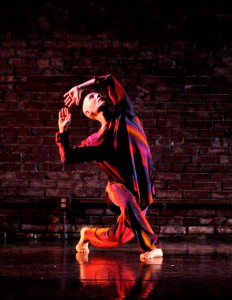 Performing with the University of Kansas (KU) Symphony Orchestra, KU's University Dance Company had a large turn-out for its annual Fall Concert, Nov. 18, at the Lied Center in Lawrence, Kan.
Dedicated to the late dance professor, Janet Hamburg, who passed away recently, the University Dance Company performed original works by faculty and guest artists.
Janet Hamburg, professor of dance and an internationally known movement analyst and lecturer, was killed Sept. 4 in New York City. Internationally known for her groundbreaking work in Laban Movement Analysis and the treatment of Parkinson's disease, Hamburg helped to build the KU dance program into its current place as a department in the School of the Arts. The performances in this concert were dedicated to her memory.
The show opened with "La Vida (Life)," choreographed by guest artist, Melinda Hedgecorth of Seville, Spain, and set to two songs from Spain, which related to issues of life, death and love. The first song was a traditional toná recorded by Miguel Poveda, who is one of the most revered young singers in Spain today, and part of a generation that resurrects historic flamenco forms in contemporary performance. Performed in simple black and burgundy full dresses, his first piece was performed in traditional barefoot Flamenco style.
The second song, "Inténtalo Encontrar (Try to Find It)," was a bulerías sung by Flamenco singer, Mayte Martín. This piece featured 10 dancers and used a combination of Flamenco and Modern Dance, integrating Flamenco heelwork and classical ensemble-work. Although the dance students lacked the fire and commitment of movement professional Flamenco dancers possess, they performed the choreography adequately and hit their marks well.
Next on the program was the delightful solo piece, "Windsome Wench and Handsome Hero Vanquish Vile Villain," choreographed by guest artist Meli Kaye and set to Von Suppé's "Morning, Noon and Night in Vienna."
Envisioned as a witty take off a silent film-era melodrama, this entertaining piece was exquisitely performed by KU professor of dance, Patrick Suzeau. Without a doubt, this solo was one of the high-points of the concert.
"Masquerade," a ballet choreographed by Jerel Hilding, KU associate professor of dance and a former Joffrey Ballet principal dancer, was an elaborate colorful suite set to Aram Khatchaturian's "Masquerade Suite."
A carnivalesque modern ballet, the lively choreography incorporated complicated ensemble work, and portrayed vignettes of romance and humor. Although the dance students were not always crisp in their execution, they demonstrated competent mastery of the steps.
After intermission, the concert continued with an unusual dance drama titled "Spill," a seven-movement suite set to the composition "La Llorona" by award-winning composer Gabriela Lena Frank, which highlighted music for solo viola. The composition was co-choreographed by KU associate professors of dance Muriel Cohan and Patrick Suzeau, and featured KU professor Peter Chun as the viola soloist.
This barefoot modern dance suite had a loose narrative organized around the after-effects of the oil spills on the earth, animals and the human condition. Although not a narrative in a
traditional story-telling sense, the choreography was conceptually intriguing, and a good example of how dance can be used as a relevant medium for important political issues and social commentary.
Closing the program was barefoot modern dance lecturer, "Concerto à Huit," choreographed by KU dance Willie Lenoir, and set to the music of George Frideric Handel's "Concerto Grosso in B-flat, Op. 3, No. 2."
Dressed in full, flowing, mult-colored dresses, this revision of Baroque dance complemented the music well, and was reminiscent of Paul Taylor's style of choreography, highlighting ensemble-work.
A reception followed the concert, where patrons were able to meet the members of dance company, the dance students, faculty and the members of the symphony.