Struggle through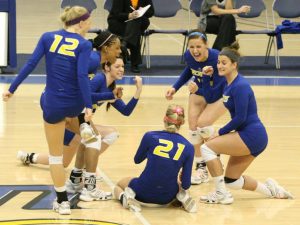 UMKC's volleyball team has had a rough season to say the least.
Going into the season, the women looked like they might win conference.
In 2009, they made it to the Summit League Tournament for the first time since 2003 and had the highest home game winning percentage in school history.
"My goals for the team are definitely to make it to the conference tournament," junior Elizabeth Beck told the U-News in early September. "I have no doubt that we will do that."
In August, Head Coach Geno Frugoli was ambitious with his expectations for how the season would shape up.
"This team is very hungry, and the program has been down for a while, but everyone can be proud of it now," Frugoli said. "We are coming back and we are going to break records."
But on Sept. 16, Frugoli surprisingly resigned as head coach and left the program. Associate Head Coach Joan Rickert immediately took over as interim head coach. Rickert had to lead the women the very night Frugoli resigned in a home match against Oral Roberts, where the women took a 3-1 loss.
Rickert said her and Frugoli's coaching styles were essentially opposite, and it took a toll on the team.
Frugoli's coaching style had always been more autocratic. The players weren't given any independence beneath him.
"[Coach Frugoli] was more of the one where he wanted to tell them what to do," Rickert said. "Most of the players had been playing here for three years and had been told everything to do pretty much all the time."
Rickert attempted to step back and give the team more freedom.
"I want the girls to make a lot of their own decisions. They know how to play, they're very athletic and they're very good," Rickert said, "We tried to back off a little bit and [the players] weren't quite ready for that."
In January, Rickert will begin individual training with the women, which she hopes will provide a medium for her to express more thoroughly her coaching style.
Along with the difficulties in Frugoli resigning, the team had trouble finding unity and flow on the court.
"Our individual goals are so great that once we put them together as a team, we are going to be unstoppable," junior Demetria Williams said in an interview in October.
Frugoli himself saw the lack of unity as a challenge after a loss against Drake University on Sept. 7.
"We really need to work on chemistry of the girls on the floor," Frugoli said.
Rickert acknowledged the disunity the team faced, but made mention of difficult situations the women have faced off the floor.
"These girls have had two years of ups and downs," Rickert said. "Things have happened off the court that I think they've come through pretty well."
"They've had some stuff thrown at them that no team should ever really have and most teams never experience," Rickert continued. "We use volleyball to teach the girls about life skills. When things throw you a curve, you've got to learn to adapt. When challenges happen and some girls step up, it just really excites you as a coach, you're going, 'ok, they're seeing it, they're seeing what they need to do.'"
The women finished out their season at Swinney Recreation Center on Saturday Nov. 13 in a 3-1 loss to Oakland University.
They didn't make it to conference, and they didn't "break records." But they never stopped fighting.
Even in practice some women stayed after to work out a little longer.
Since Frugoli's resignation, the women have taken a 6-13 record, which on paper is nowhere near expectations.
But 10 of those 13 losses were in the fourth and fifth set of play. They hit paint and fought hard only to come up short.
But with only three of the girls graduating, the majority of the team will return to the floor next season to finally meet expectations and find its unity.
In the Sept. 6 issue of the U-News, junior Elizabeth Beck was spotlighted as player of the week.
Every week different athletes are asked where they find their inspiration and support.
Most say family, some say coaches, while others say trainers, but not Beck.
"The team is made up of my closest friends," Beck said. "I see them go through things that I would maybe struggle with and it just brings me up and lets me know, I can get through."