Transgender author speaks to gender/queer theories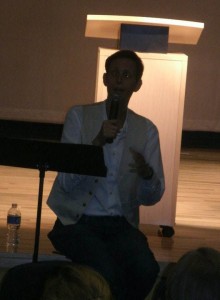 The fourth annual UMKC Pride Keynote Address introduced Riki Wilchins.
The event was sponsored by the UMKC Division of Diversity, Access, and Equity. Wilchins is a transgender author, activist and provocateur.
Wilchins gave a lecture Thursday, Nov. 10 at the Student Union Theater.
Wilchin's lecture was based on her novel, "Queer Theory and Gender Theory: An Instant Primer."
A few of her published works include, "Read My Lips: Sexual Subversion" and "The End of Gender," as well as "Gender Queer: Voices from Beyond the Sexual Binary," and a new novel called "Trapped! (in a Woman's Body)."
Within her lecture, Wilchins focused her attention on explaining the central ideas of queer theory and post-modernism in depth to her audience from both a personal and humorous perspective.
Wilchins related social and political standards to the lesbian, gay, bisexual, questioning intersex and allied transgender (LGBTQIA) community. Her first topic of discussion was "transgender," where she explained the origins of the term and its meaning from a social and political standpoint.
She highlights social and political stigmas and misconceptions (LGBTQIA).
"Transsexuals get limited political legitimacy," Wilchins said.
Wilchins gave her theories on the meaning of modernism and post-modernism.
"Modernism is the idea that knowledge is pure, simple and out there," Wilchins said. "Post-modernism says knowledge is highly political and has a purpose."
Wilchins also spoke about the distinctions between cross-dressers and transsexuals, the differences between pre-operation and post-operation surgeries, and a term called "simple binaries."
Wilchins explained society classifies these individuals in a general categorical sense.
Wilchins said a person is either categorized as male or female, Black or White, gay or straight.
Following Wilchins' speech was a Q&A session.
Wilchins gave her audience an opportunity to ask questions, talk about personal experiences and share thoughts and ideas on theories associated with gender and transsexuals.
Wilchins replied to each person's question humbly and with a little humor.
A reception took place outside the theater, where attendees and Wilchins exchanged words. There was a book signing as well.
When asked what her goal was for giving her speech at UMKC, Wilchins replied, "I hope people will both feel proud of who they are, but also feel free to question who they are when the labels don't fit."