Tattoo of the Week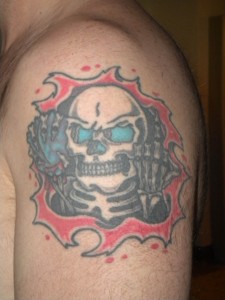 What did senior Chris Williamson do after he was laid off from Microsoft?
He got a tattoo.
"They gave me a huge check," he said. "It was the most money I had ever had."
Williamson was a technical support specialist at Microsoft in Seattle. When he was laid off, shelter, food and clothing were not his top priorities. He said he figured he would get a job soon enough, and he did.
Williamson's tattoo is a picture of a skeleton bursting out of his skin. The skeleton is "flipping the bird" with his right hand and holding a heart in his left hand.
"I'm a total nut head," Williamson said. "I came up with the idea myself."
He said the skeleton symbolizes everyone has skeletons in their closet.
"The skeleton flipping the bird in one hand," Williamson said. "And holding a heart in another is the balance of heart and attitude I have."
Williamson said he grew up poor, in group homes and juvenile detention centers. These experiences exposed him to different personalities.
"I have lived with more than 1,000 kids," he said. "This taught me to love different people."
Williamson said he has a lot of love for caring, supportive people.
"I [couldn't] care less about the people who have doubted me because of my past," he said.
Williamson is a film major at UMKC and will graduate in May. He plans to attend graduate school.
"From the design to the placement of the tattoo there was a purpose," Williamson said.
Williamsons' 10-year-old tattoo bursts from his upper arm.
"I put the tattoo on my muscle," he said. "The muscle is the stronger part of the body and symbolizes strength."
Williamson said everything he does has a purpose.
"There is no purpose or meaning to life," he said. "You can only find meaning in life."