The Sun sets, the Sun rises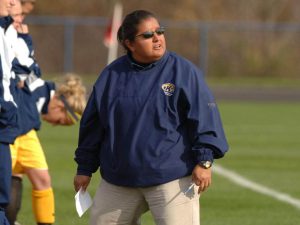 There is a story behind every team.
Every group of individuals functioning as a whole has something intriguing about them if you are willing to seek it out.
The most successful and well-known teams, the New York Yankees and Manchester Uniteds of the world, will always be rife with subplots.
People want to know what Alex Rodriguez and Wayne Rooney are like as people.
There is typically a massive trade or transfer looming in the future. Their stadiums are considered landmarks and are usually full on game day.
But what if the success is not as obvious as victories or value? What if the team was virtually unknown on its own campus, in its own backyard?
Is the story really much less interesting or is it actually more intriguing?
The UMKC women's soccer team does not have a superstar. It does not have any seniors, or even a captain, for that matter.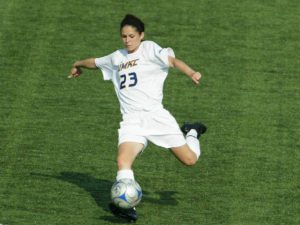 The team has totaled two victories in as many years. The best Summit-League result it could attain this year were a couple of 0-0 draws at home toward the end of the schedule. The Roos lacked offensive firepower, consistency and on-field leadership.
"The games that we should have won, we didn't," Head Coach Anita Rodriguez said. "The games we were expected to be blown-out, we showed up."
But the evidence of a maturing and evolving team can still be found.
On a late October evening, the evidence wasn't so telling.
The players quietly sauntered off the field, freshly excused from an arduous practice. The players' will was tested; the coaches' patience was tested.
It was the first truly cold day of autumn. The sun was quickly setting behind the stands of Durwood Soccer Stadium and Recreational Field, and there was very-little-to-no wind. It was silent, calm and uncomfortable.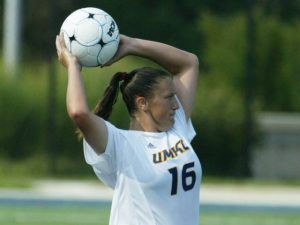 Losses to conference opponents Centenary and Oral Roberts heavily contributed to the sour displacement of the team, and it was clear Rodriguez was not in a pleasant mood.
Centenary was chosen below UMKC in the Summit League preseason poll, the only team ranked lower than the Roos.
The loss was a chance wasted. Two days later, an opportunity to upset Oral Roberts quite literally slipped through their hands.
A discussion with Rodriguez yielded a coach frustrated with coaching the same points.
"I tell them 'I should just get a tape recorder and play it to you,'" Rodriguez said. "Because I keep telling them the same things."
Leaving the practice field, the sun set and a sudden wind deceivingly increasing the darkness, Rodriguez can be seen through the window in her office with her head down, diligently taking notes.
She glances up, shoots a look of dissapointment and promptly gets back to work. Today was not easy.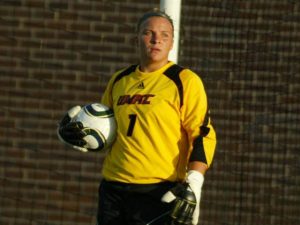 This is simply the result of inexperience. A second-year program with a first-time head coach and a group of players who are still learning to find chemistry is inherently going to encounter many days that are not easy.
"We were extremely inconsistent," Rodriguez said. "We just haven't found our balance yet."
Sophomore forward Meagan Malloy conveys a quiet confidence in finding this balance.
"I think this year was another growing year," Malloy said. "And I think that we've grown a lot. We have more skilled players. We're smarter; we now know what to expect."
Malloy moved from left back to an attacking wing role.
She found her footing, learned the new position and displayed a few moments of brilliance.
Sophomore sweeper Alyssa D'Egidio went the opposite direction in a position change and was just as effective in concerning herself with preventing goals.
These changes were just two of the positive moves that the team was forced to adapt to. A number of injuries caused problems throughout the season as well.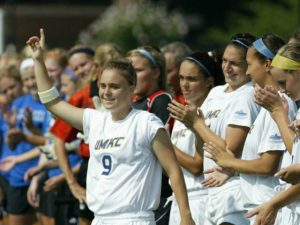 Sophomore goalkeeper Jami Finnell played the last few weeks of the season with two sprained wrists. Sophomore forward Meagan Shipley was bothered all season by a nagging injury that forced her to don a large plastic boot on her right foot after the season concluded.
"There were a lot of times where it was hurt, but" Finnell said, pausing. "My body must be weak or something because there is always something wrong with me."
Shipley embraces her new role, a role she "never wanted to be," basically, the role of team cheerleader, the super-sub off the bench that keeps the energy level high.
Injury or not, Shipley's effectiveness off the bench is reason enough to keep her in that role.
"I'm not playing as much as I did last year," Shipley said. "So I just look to lead in a positive manner and show the other people on the bench that it's okay to be there; it's okay to be on the bench."
Sarah Shaughnessy, Ashley Gann, Taylor Bare, Abby Shimota, Jordan Andrzejewski and Audrey Barnard were all instrumental players this season, and all were still in high school last year.
Through struggles, injuries and position changes, a team emerges. The team is optimistic after the final weekend in which they thoroughly outplayed Indiana-Purdue Ft. Wayne in a draw and led the top team in the Summit League, Oakland, early in the match before falling late in overtime.
"We were a totally different team," midfielder Laura Creason said, one of only two juniors to play this season. "It was pretty obvious in our last game. I think our level of expectation is higher."
Creason will be a senior next season, and the women's program should see its first few graduates. The expectations of winning games and developing leadership have been put in place by the coaching staff.
"It's not just the soccer part, but also the leadership part," Assistant Coach Nikki Champe said. "That's something we're really going to focus on in the spring."
Next season will bring in a new class of freshman.
The returning players will have another year of experience. There is a spring training session for the players to work out any lingering kinks before the 2011 season kicks off next August. The work and the struggle never stops, however.
"The future starts now," Champe said. "The season is over but today, they continued working."