Women's basketball preview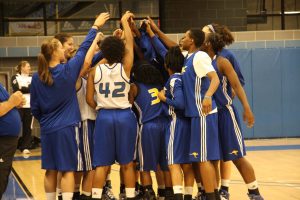 The UMKC women's basketball team has raised expectations and looks to build on a third-place finish in the Summit League last season.
Despite the graduation of star guard Chazny Morris, 10 letter winners return from a team that played its first postseason in the Division 1 era with a berth in the Women's Basketball Invitational.
The Roos were 16-16 (12-6) last season in large part because of Morris' play. The 5-foot-10-inch guard wrapped up her career at UMKC as the school's all-time leading scorer and will be missed in clutch moments.
"Chazny was definitely the player that took the big shots for us," Head Coach Candace Whitaker said. "But now instead of one player taking twenty shots, four or five players will get four or five more shots a game."
Juniors Dayon Hall-Jones and LeAndrea Thomas return to fill the top backcourt roles.
Hall-Jones will start at point guard and improve her shooting over the summer, which should open more passing lanes with the defense being forced to cover her more aggressively.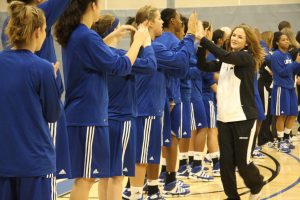 Kansas City native Thomas returns after starting in 13 games last season and hitting a game-winning layup to reach the conference tournament semifinals.
Senior Sam Sikkink returns after missing the final six weeks of the season with a knee injury.
"Sam will do a lot of the little things for us," Whitaker said. "She's a very smart player."
Another senior, Janee Williams will find minutes in some way with freshmen Peyton Adamson and Eilise O'Connor.
Two other freshmen could allow junior Jade Tinner to move out of the five and to her more-natural position at the four. Six-foot-5 inch Ashli Hill and 6-foot-3-inch Hailey Houser immediately enhance the Roos size and are both skilled, but will need time to adapt to the college game before being truly effective.
Sophomores Kaycie Boyles and Kim Nezianya will combine with junior Mariah Davis to round out the frontcourt rotation.
After a few seasons of Morris leading the charge, Whitaker expects more than one player to carry the load this season.
"We have a few games to figure out what kind of team we are before conference play starts," Whitaker said. "We have a lot of chances to see who is going to step up."
UMKC will open the season at Drake but will play all but two of its non-conference, non-tournament games at the renovated Swinney Recreation Center, games against regional heavies Kansas and Missouri.
"We're looking forward to going forward this season," Whitaker said. "We have a lot of things to learn about ourselves."