Monster Rockettes production takes Kansas City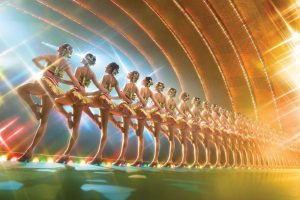 The "Radio City Christmas Spectacular," a 77-year-old production from New York City, featuring the Rockettes, is coming to the Sprint Center.
In their 77-year history, more than 3,000 women have performed as Rockettes, and each year, thousands audition.
In 2008, The "Radio City Christmas Spectacular" launched the largest Rockettes tour to-date in 22 cities, performing to an audience of 1 million.
The Rockettes made an appearance on ABC's "Dancing with the Stars," the Tony Awards, the Presidential inauguration, the Super Bowl halftime show and on commercials for Diet Coke.
"My vision for the Rockettes and 'The Christmas Spectacular' has always been to explore scale and take the precision dance form to new levels, whether in a theatrical venue or an arena space," said Linda Haberman, 'Radio City' director and choreographer. "In my view, the mark of a true classic is that it is timeless, relevant and can be re-interpreted to push artistic boundaries."
FUN FACTS (Courtesy The Radio City Christmas Spectacular, New York City)
It takes more than 165 people to stage the 'Radio City Christmas Spectacular' arena tour.
22 trucks transport the sets from city to city.
9 buses will transport the cast and crew traveling over 9,000 miles during the 47-day tour.
The technologically advanced stage was designed by Tait Towers. Towers designed staging for the Rolling Stones, Justin Timberlake, Madonna and U2.
The staging includes a 25 by 65 feet LED screen – one of the largest LED screens to travel with a tour.
More than 850 yards of red velvet are used to make the Santa costumes.
More than 1,300 colorful costumes are worn in the "Radio City Christmas Spectacular" Arena tour. Each of the Radio City Rockettes change costumes eight times during each show and in a few of the changeovers, they have as little as 78 seconds in which to change their costumes.
1,200 pairs of tights adorn The Rockettes' world-famous legs during the 19-city run.
The Rockettes will perform more than 300 eye-high kicks in each show totaling 437,400 eye-high kicks during the tour.
3,300 pounds of "snow" will fall upon the audience during the 19-city run.
14,096 AA batteries are used during the show's run. These batteries are used to power the wireless microphones that are worn on-stage by the entire cast.
Wardrobe will use more than 6,000 red dots per season to brighten the cheeks of the Rockettes during the "Rag Doll" and "Wooden Soldier" numbers.
Among the Rockettes, chorus and Santa, more than 300 pairs of shoes are worn per show.
The "Radio City Christmas Spectacular" will perform 4:30 and 7:30 p.m Nov. 19 at the Sprint Center. Tickets start at $25.
For more information on ticket prices, visit www.ticketmaster.com. For more information on the "Radio City Christmas Spectacular," visit www.radiocitychristmas.com